As you look to update flooring in your home, you've likely come across the term "LVP". So what is LVP flooring? Luxury vinyl plank (LVP) is a modern take on traditional sheet or tile vinyl flooring. This durable flooring material is designed to look like hardwood, stone, or ceramic tile, and is made up of several layers of vinyl and composite material.
At Panel Town & Floors, we offer a wide selection of LVP flooring. Here's a quick guide to help you discover the benefits of luxury vinyl plank flooring.
What is LVP?
LVP (also known as luxury vinyl floor) is a layered flooring material that is up to five times thicker than classic sheet or tile vinyl. Each plank features a tongue-and-groove construction and click-lock installation.
LVP is typically made up of four separate layers, including:
Wear Layer: a transparent layer that shields against abrasions, gouges, and tears
Design Layer: a decorative layer that can be printed to resemble wood, brick, stone, or ceramic tile
Vinyl Core: a thick layer of 100% waterproof PVC or composite material in the center of the plank
Backing Layer: a layer of vinyl that gives the plank stability and a slight cushion
Certain specialty brands of LVP, such as COREtec Pro, have 6 layers. Additional layers include a UV Acrylic Finish designed for additional durability, stain resistance, and easy cleaning, and an attached cork underlayment to provide warmth and noise reduction.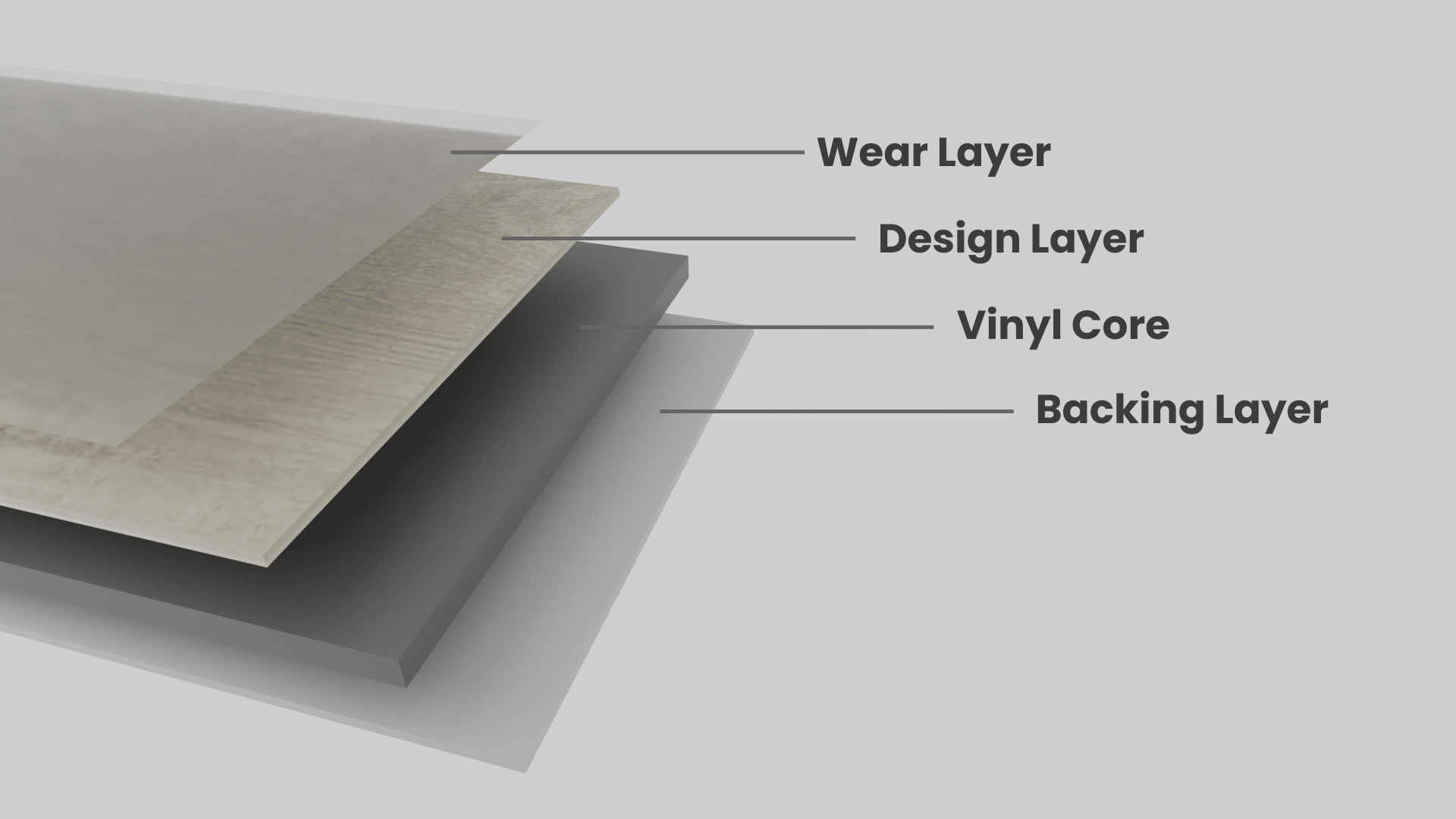 Luxury vinyl plank layers are fused together using high heat and pressure for strength, durability, and uniformity. Standard plank sizes range from 36" to 48" long and 6" to 7 ¾" wide, with most brands, including Shaw and Happy Feet, available in widths greater than 8".
Understanding Core Types
LVP flooring is manufactured similarly across different brands, but composite materials used gives each type a distinctive look and feel. The two primary core types for luxury vinyl planks are WPC and SPC.
Wood Plastic Composite (WPC): features a backing layer of wood-plastic composite material instead of a rigid PVC layer. 100% waterproof and can be installed without an underlayment using a glue-less floating method.
Stone Plastic Composite (SPC): combines limestone powder with polyvinyl chloride and plasticizers to create a dense, 100% waterproof core. Noted for withstanding variations in temperature and humidity by remaining rigid and tightly connected.
What are the Benefits of LVP?
LVP flooring is one of the most popular options for home flooring renovations and new installation—and for good reason! The key benefits of LVP flooring include:
100% waterproof: Each plank is 100% waterproof, making it an ideal flooring material for the bathroom, kitchen, laundry room, entryways, and children's play areas.
Simple and efficient installation: Tongue-and-groove joinery allows for simple click-lock installation. The multiple layers of LVP makes it a versatile option for below-, at-, or above-grade floor surfaces.
Low upkeep and maintenance: LVP flooring is ideal for busy households and high-traffic areas such as the living room, kitchen, and hallways. Regular sweeping and proper cleaning keep LVP looking great long-term.
Strong, durable, and damage-resistant: The durable wear layer protects LVP from abrasions, dents, tears, and stains. Its 100% waterproof construction also protects against warping and damage from water seepage.
Wide variety of designs and colors: LVP flooring designs range from realistic hardwood to decorative tile, and are available in a variety of colors to suit any room, décor, or style.
Cost-effective: Prices for LVP flooring typically range from $2 to $5 per square foot. Installation is also quick and easy, leading to greater savings over traditional hardwood or carpeting.
What are the Disadvantages of LVP?
Despite its many benefits, there are a few downsides of LVP that you should consider before installing LVP flooring in your home.
May dent under heavy objects: Heavy objects can leave dents on the surface of LVP. When placing heavy furniture or appliances on LVP, soft felt pads on the feet/posts are recommended.
Chemicals may cause stains: If LVP comes into contact with certain materials or chemicals, such as rubber or ammonia-based cleaners, there may be stains, fading, or discoloration.
Sunlight may cause fading: While certain brands of LVP have a UV-protected wear layer, natural sunlight can cause the top layer to fade or yellow. If you install LVP floors in brighter rooms, an area rug with a natural non-rubber backing is recommended.
How is LVP Installed?
Whether you love DIY or decide to hire a professional, one of the most appealing features of LVP flooring is how easy it is to install. Standard installation methods for LVP flooring include:
Glue-down installation: This method of LVP installation involves laying an adhesive either on the subfloor or individual planks to secure them. Modern hard-set adhesive is similar to carpeting glue, and is spread over the base surface to firmly set the planks. Pressure-sensitive adhesive, meanwhile, is a classic base layer that provides a sturdy grip while offering easier plank removal and replacement.
Floating installation: This popular method of installing LVP floors relies on the product's click-lock design to secure each plank without the use of adhesive materials. Floating installation is ideal for rooms with existing flooring or subfloors with residual adhesive.
No matter which LVP flooring brand you choose, it's always recommended to follow the manufacturer's guidelines for installation to optimize results and to maintain a valid warranty.
How Does LVP Compare to Laminate?
LVP and laminate are both designed to resemble hardwood or other natural materials and feature click-lock installation. LVP is gaining popularity over laminate because of its versatility and wide range of colors of designs. Laminate tends to have a more natural finish and cushioned feel underfoot, making it ideal for showcase rooms such as the living room or master bedroom. Laminate flooring also typically requires a foam underlayment.
How Does LVP Compare to Vinyl?
LVP and traditional vinyl are both made from synthetic materials, but LVP is much thicker and its multi-layered design protects against moisture, stains, and warping. Sheet vinyl or vinyl tiles require a level subfloor for proper installation, while LVP can be installed over existing floors. LVP is also manufactured to resemble wood, ceramic, marble, or stone, giving your floors a natural look and feel. Vinyl sheet flooring also tends to look more artificial and is better-suited for industrial or commercial applications.
Are there Differences Between Manufacturers?
Yes! Like any manufactured flooring, each brand and product has its own unique features and traits. At Panel Town & Floors, we carry a wide range of quality LVP brands, including COREtec, Happy Feet, and Shaw. Our selection of LVP flooring has been curated to suit multiple installation methods and varying grade requirements, while surface embossing provides a decorative aesthetic.
Other brands on the market, such as LifeProof from Home Depot, are considered mass-market luxury vinyl plank. This type of budget flooring fails to provide the same thickness, durability, strength, or waterproof attributes as speciality LVP floors. Brands such as Shaw, Happy Feet, and COREtec, are speciality luxury vinyl plank and provide superior quality, durability, and selection.
With the broad range of LVP flooring options available at Panel Town & Floors, there are styles, brands, and colors to suit any room in your home. Browse our collection of waterproof luxury vinyl flooring today!
To help you envision how our LVP flooring will look in your home, upload a picture to our Visualizer tool.
View our online selection of luxury plank flooring or visit our store today!