The best knee pads for flooring last for years and offer total knee protection and improved mobility. They're designed to fit perfectly and feel comfortable without ever getting in the way – no matter the job site.
In this article, you'll learn about the best knee pads for flooring, so you can work more effectively, stop knee pain, prevent muscle tears, and avoid muscle, joint, and bone disorders that require invasive surgery and a lengthy rehab.
Protect Your Knees to Preserve Your Health & Career
It's easy to take your knee health for granted when you feel great. You only really think about the pain when you're sitting on the edge of your bed, rubbing your sore knee, hoping the ibuprofen helps. With knee problems, everything, from getting into your car to putting on your socks and shoes, becomes an undertaking.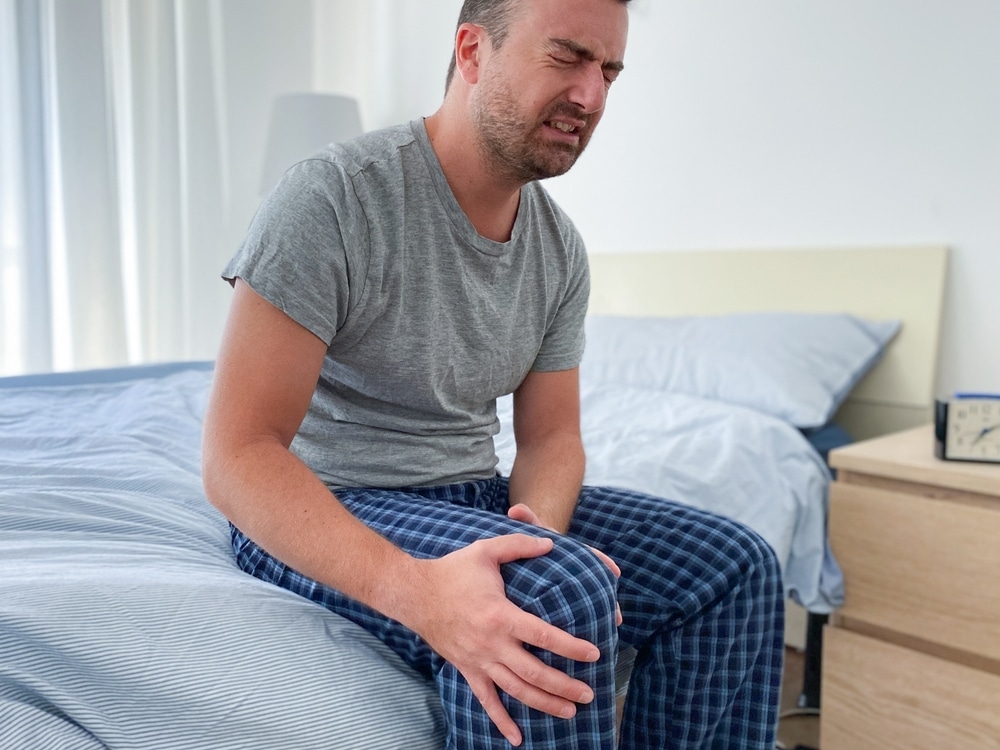 Working on your knees day after day puts you into many positions that expose you to knee-straining wear and tear. And the pressure you put on your knees when you kneel targets your knee joints, eroding the cartilage and depleting the synovial fluid that lubricates your joints.
Once your knee cartilage breaks down, there's no going back. You'll be dealing with the agonizing, bone-on-bone friction, popping and pain, stiffness, and swelling of a Musculoskeletal disorder, such as Osteoarthritis. It's all too common and on the increase, affecting over 32.5 million adults.
Tibiofemoral Osteoarthritis is one of the most common types of these disorders doctors see in floor layers. Unfortunately, there's no cure for this painful and limiting condition. Once it gets to this point, you'll be out of options.
You'll be looking at injections or surgery to hopefully repair the damage. Then there's the grueling recovery with the possibility of additional surgeries.
One way to protect your knees and prevent pain is to invest in the highest-quality knee pads available and wear them every day at work. And if you're an employer, outfitting your team with the best knee pads goes a long way to show you care, boost productivity, and prevent setbacks caused by common knee injuries.
What if you have knee issues or have already had surgery?
If you're currently experiencing knee problems or recovering from surgery, the knee pads you choose now can make all the difference. The right pads can prevent inflammation and reduce pain. They'll also secure your knee to help you prevent further aggravation.
ProKnee Knee Pads
ProKnee Knee Pads provide the ultimate level of knee protection for flooring installers (roll goods, ceramics, wood, and carpets). With 18 custom sizes and adjustable straps, you'll get a perfect fit according to your specific measurements. Combined with premium cushioning and innovative weight distribution features, you'll feel like you're kneeling on clouds.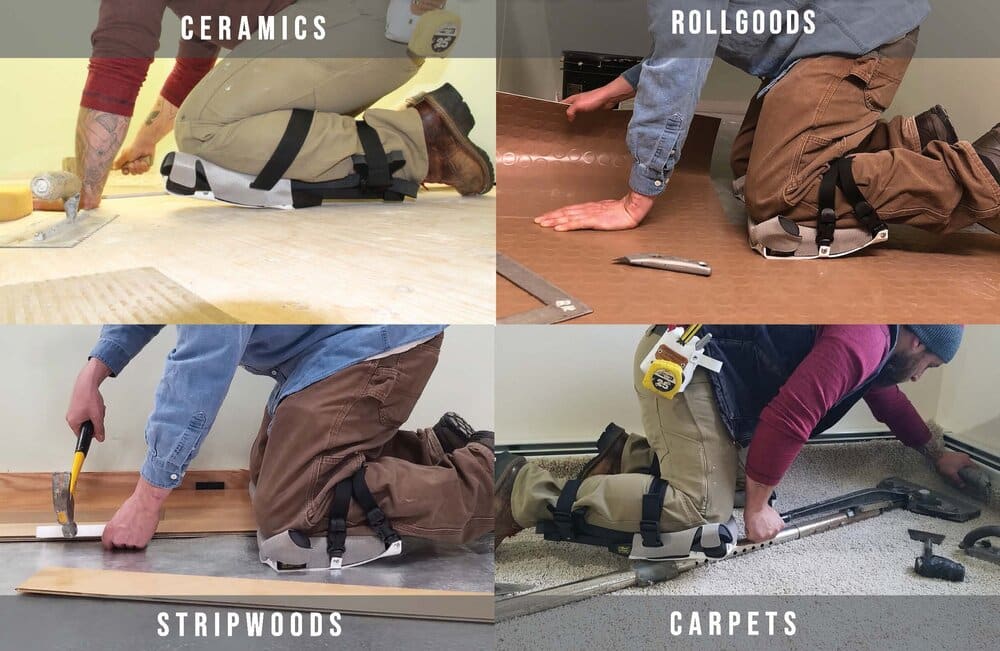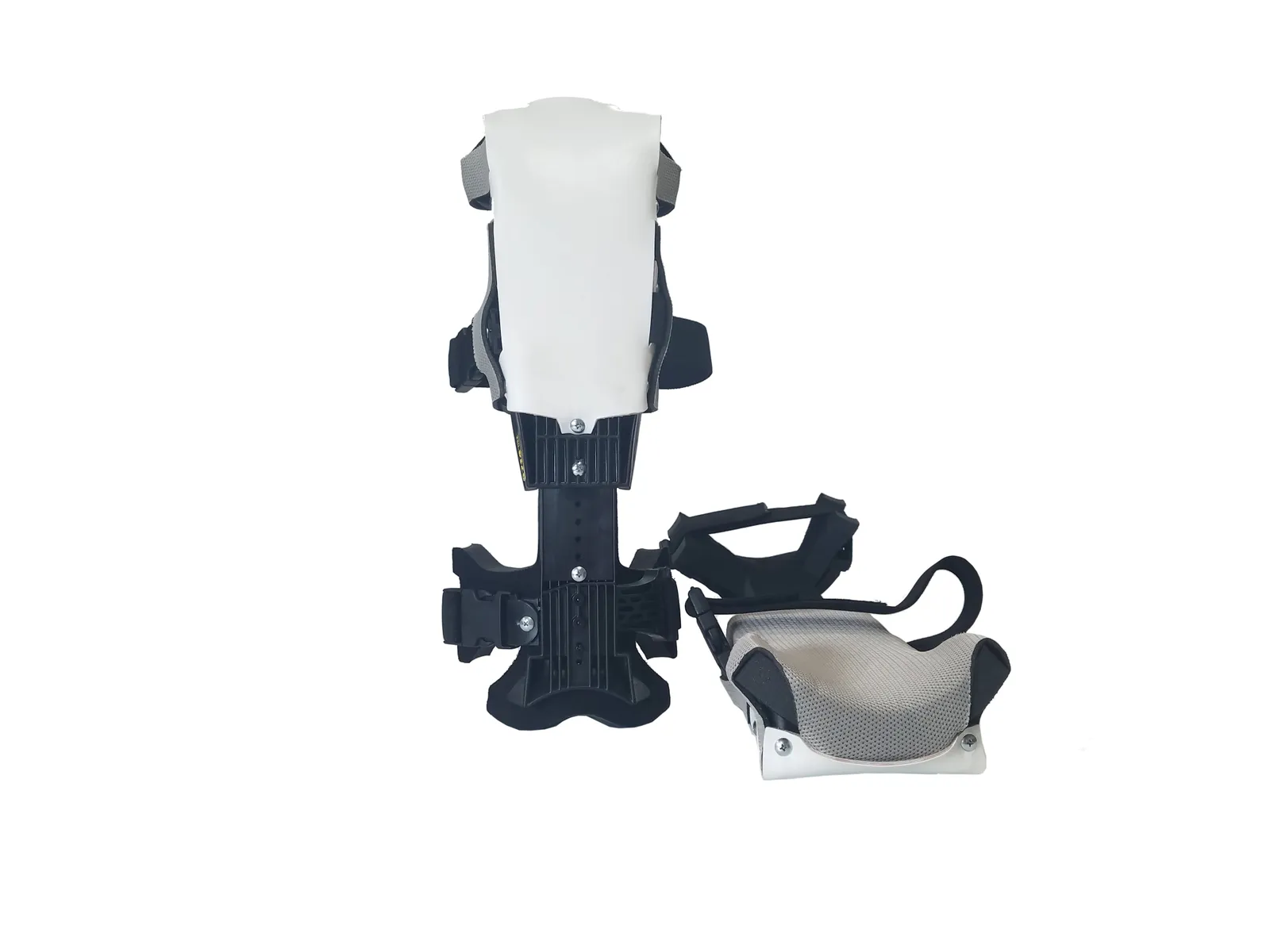 Patented shin support reduces pressure that typically bears down on your knee caps as you work. Instead, the weight spreads out evenly so you don't feel it, improving your balance and posture without extra effort.
This means you'll eliminate the cartilage-eroding stress on your joints while automatically practicing better posture. Day after day, you'll experience less soreness and fatigue. And throughout the years you'll guard your knees against permanent damage.
Another benefit to ProKnee knee pads is that they're designed for the long haul. Unlike traditional knee pads, which degrade and have to be thrown away, ProKnee offers a full range of replacement parts.
When your cushion wears out, you can buy another. If a strap breaks, you can order another one with ease. No matter what part you need to replace, ProKnee has it available. The beauty of this is that you'll be able to maintain a single product in the years to come. We also carry a full range of ProKnee replacement parts in store and online.
If you spend 8 hours of your day working from the floor, do your knees a solid and order ProKnee. 
The Cons of ProKnee
ProKnee offers a confluence of benefits, but there's also a couple of drawbacks to think about before you buy.
The first one is the price. Compared to other flooring knee pads on the market, ProKnee is much more expensive. You can order 5 pairs of Troxell SuperSoft Leatherhead Knee pads for the price of one pair of ProKnee.
Another issue with ProKnee is that they're different from every other type of knee pad. So if you've never used them, you might find it takes a little time adjusting to the full coverage and the center-of-gravity feeling they provide.
Good Knee Pads For Flooring & More
For other types of knee pads that are less expensive, you can choose from a variety of materials and brands. The main decision you'll need to make is whether you like pads with foam or a soft gel core. The difference comes down to individual preference. Some people swear by durable foam while others prefer gel-padded knee pads.
Troxell Knee Pads
Troxell provides both comfort and protection for less than $60. Made with soft, durable foam, they're a highly popular option among professionals and DIYers, too. You can use them for just about anything – from construction and flooring, to cleaning and landscaping.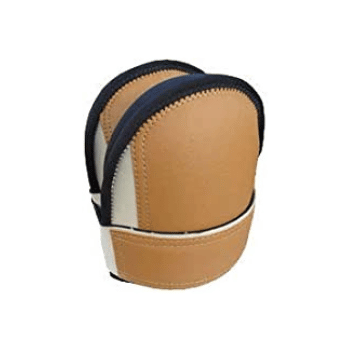 Maybe you're a carpenter who spends 20% of the workday kneeling. If that's you, then Troxell knee pads could be perfect. They provide a simple and attractive style, and are available in different colors and sizes.
And best of all, they're easy to put on and take off. Once you have them in place, you'll hardly notice them. We've sold Troxell knee pads for years and have seen many of the same satisfied customers return again and again for this lightweight and convenient option.
For knee pads that get the job done at a low price, order Troxell Super Soft Knee Pads.
Summary
Flooring is demanding and physical work that requires you to constantly kneel. The brunt of the stress from kneeling all day impacts your knee joints and strains your lower back. Performing this kind of work regularly leads to inflammation, pain, stiffness, and swelling. If you don't take care of it now, you'll be at high risk of developing Osteoarthritis or another type of painful and debilitating muscle, joint, or bone disorder.
An effective strategy to protect your knees is to consistently wear knee pads while you work. The best knee pads for flooring depend on what kind of work you do. If you're spending 8 hours in kneeling positions, we recommend ProKnee 1" cushion knee pads to improve your posture, mobility, balance, and to decrease knee-joint stress.
ProKnee custom-fit knee pads are the best knee pads for flooring because they give you an unmatched level of comfort and unrivaled protection. They're designed to be the only knee pad you use, so you'll never have to replace them. You can buy replacement parts instead to easily maintain them throughout the years.
If you're on a budget, another good option is Troxell's super soft knee pads. They won't redistribute your body weight across your shins like ProKnee, but they're very convenient and comfortable. Many professional floor layers, landscapers, carpenters, and construction workers rely on them every day.
You only have one pair of knees. One of the best decisions you can make now is to protect them, so you can be free from pain and avoid surgery, which makes life better and leads to a long career.