Waterproof hardwood flooring gives you the timeless character of hardwood with a built-in insurance policy against water and liquids. In this guide, you'll learn about water resistant hardwood flooring, its benefits and limitations, and the best waterproof hardwood flooring. By the end, you'll know whether it's is the right choice for your home.
Why Choose Waterproof Hardwood Flooring
One of the greatest threats to your hardwood floor happiness is moisture, water, and other liquids. Nothing is worse than making an investment into your home and seeing it quickly turn into an expensive catastrophe.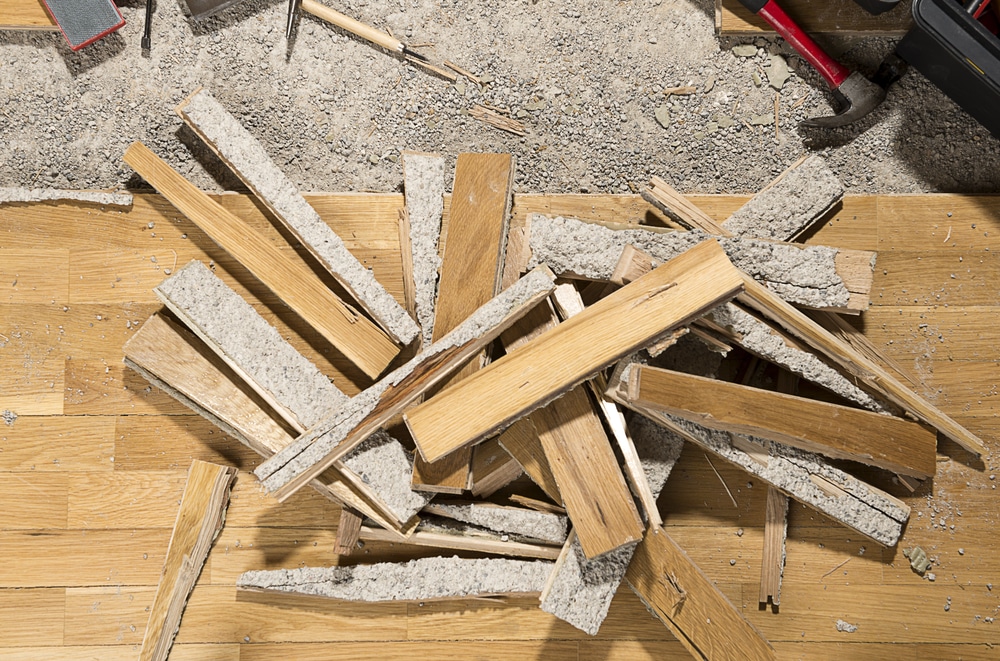 Liquid that penetrates through the wood grain will destroy the wood. Fading, stains, buckling, and warping can turn your otherwise beautiful floor, and the defining feature of your space, into an irreparable and expensive mess. Excessive moisture can also cause mold to grow and flourish in your home, which is a health hazard.
Waterproof hardwood flooring provides the benefits of authentic hardwood, such as unique beauty, warmth, and unsurpassed comfort and feel. You get real hardwood on top, and a waterproof, composite core underneath. The top layer veneer is real hardwood. It's attached to core made of 3-11 layers of 100% waterproof lamina.
But unlike solid hardwood floors, which are protected by a water-resistant coating applied to the surface, waterproof hardwood is engineered to stop moisture and water in its tracks. This prevents damage from the inside out.
Waterproof Hardwood Vs Hardwood Flooring with a Water-Resistant Coating
The main difference between waterproof hardwood and solid hardwood (prefinished or unfinished) with a water-resistant coating comes down to time. Waterproof hardwood can be exposed to liquids with virtually no time limit, so pooling water will remain on the surface without ever causing damage to your floor. Ultimately, the core design of each individual plank determines whether it's waterproof or not. If the plank's core isn't waterproof, then there's always the risk of an eventual water breach.
With solid hardwood, there's no waterproof core – just solid wood. This means that liquid can penetrate deep into the grain, resulting in mold formation and ruin from within.
Because waterproof hardwood flooring has a waterproof core, it's better at handling spills, wet feet, and standing water for extended periods of time. You can wait longer to wipe up spills without worry. Shop our selection of prefinished & unfinished engineered hardwood flooring options.
Water Resistant vs Waterproof Flooring?
Water-resistant and waterproof flooring have entire distinctions. Waterproof floors are built tougher and can 100% withstand unexpected spills, but also more significant misfortunes. On the contrary, water-resistant flooring is developed to only retain small spills that should be wiped up quickly so as to not seep into the material.
The Benefits of Waterproof Hardwood Flooring
Waterproof hardwood has four main benefits:
Waterproof Protection
An ounce of prevention is worth a pound of cure. And this is true when it comes to selecting, installing, and maintaining hardwood floors in rooms prone to splashes and spills. Many manufacturers refer to their products as 100% waterproof and offer warranties to back up their claims.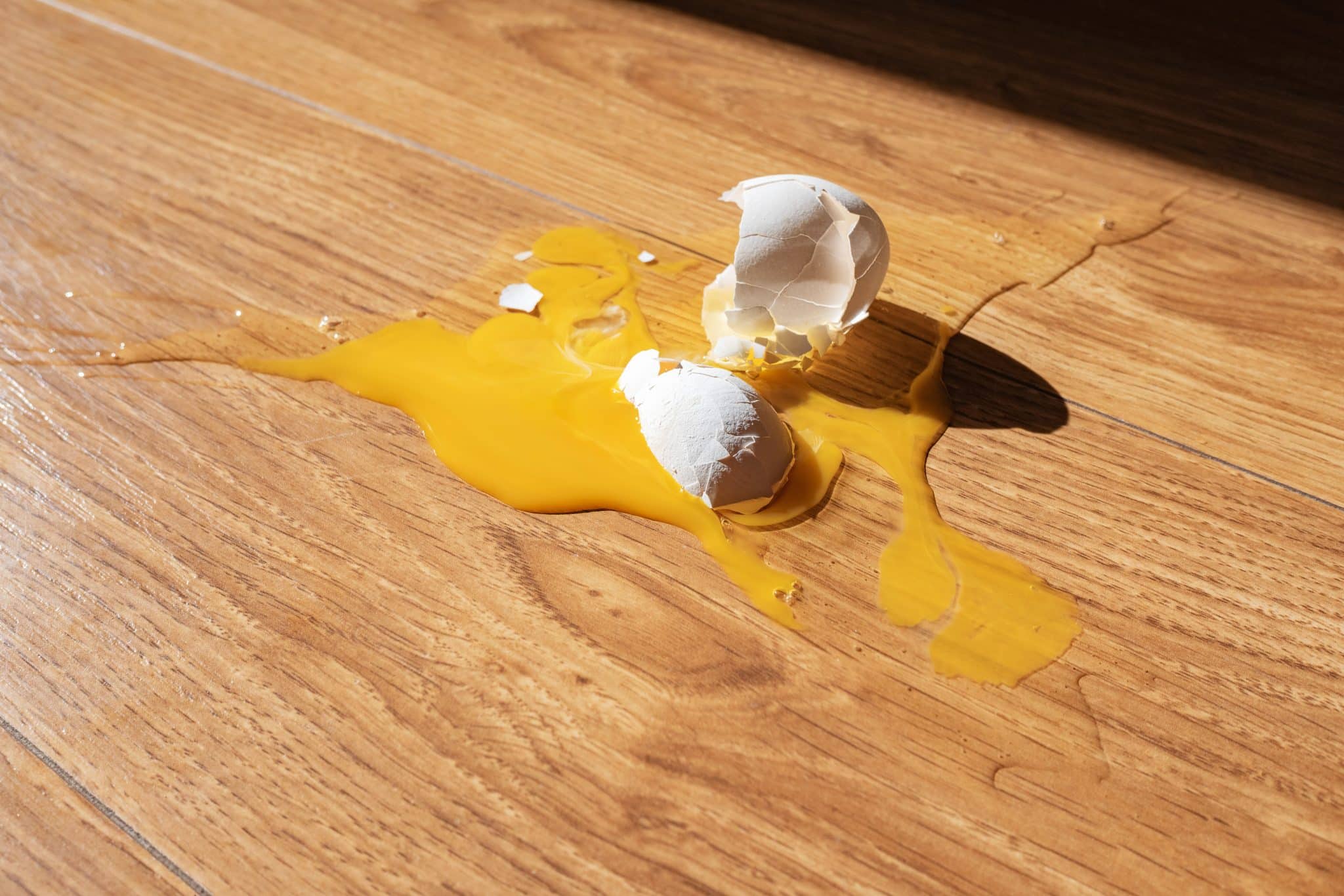 Waterproof hardwood flooring is ready for almost anything – from cracked eggs and big bowls of dropped cereal to a leaky washer or a mishap with the aquarium. This means you won't ever find yourself stressing out about the numerous water issues common to home and property owners.
The Uniqueness and Natural Beauty of Hardwood
A properly installed, quality waterproof hardwood floor increases your property value with the uniqueness and natural beauty of hardwood. Natural hardwood is unsurpassed in look and feel, and you can't fabricate it. Manufactured vinyl and laminate material designed to look and perform like wood isn't the same as real wood, however close it appears.
Yes, you can get a similar look to hardwood with advanced embossed imaging, but eventually the image pattern repeats across your floor. And when it comes to performance, hardwood has no equal. Real hardwood has a one-of-a-kind aesthetic only nature provides.  
The Versatility to be Installed in Any Room
Ever dreamt about having real hardwood floors in your kitchen, bathrooms, laundry room, or even your basement? Then waterproof hardwood flooring is a solid option. Because you can install it above or below grade level, you can put it in any room you choose.
A Pet-Proof and Kid-Friendly Wear Layer
If you're an active family with pets, waterproof hardwood flooring is one of your best options. Waterproof hardwood is ready-made for unexpected moments, especially surprises from pets. All of the best brands include enhanced wear layer protection that guards the wood against wet paws, urine, scratches, dents, and more. This wear layer is also an ideal surface for active children who love to play.
The Limitations of Waterproof Hardwood Flooring
Even though waterproof hardwood flooring offers you many benefits, it also has limitations. You'll want to be aware of them to make an informed decision. Knowing them up front will help you decide whether it's the right type of flooring for your needs, preference, and lifestyle.
100% Waterproof?
The core is 100% waterproof, but the veneer is solid hardwood, which is held tight to the core. Wood will always begin to degrade when it's fully submerged. Installing waterproof flooring mitigates the risk of water damage. But it won't eliminate the possibility for damage during certain disaster situations.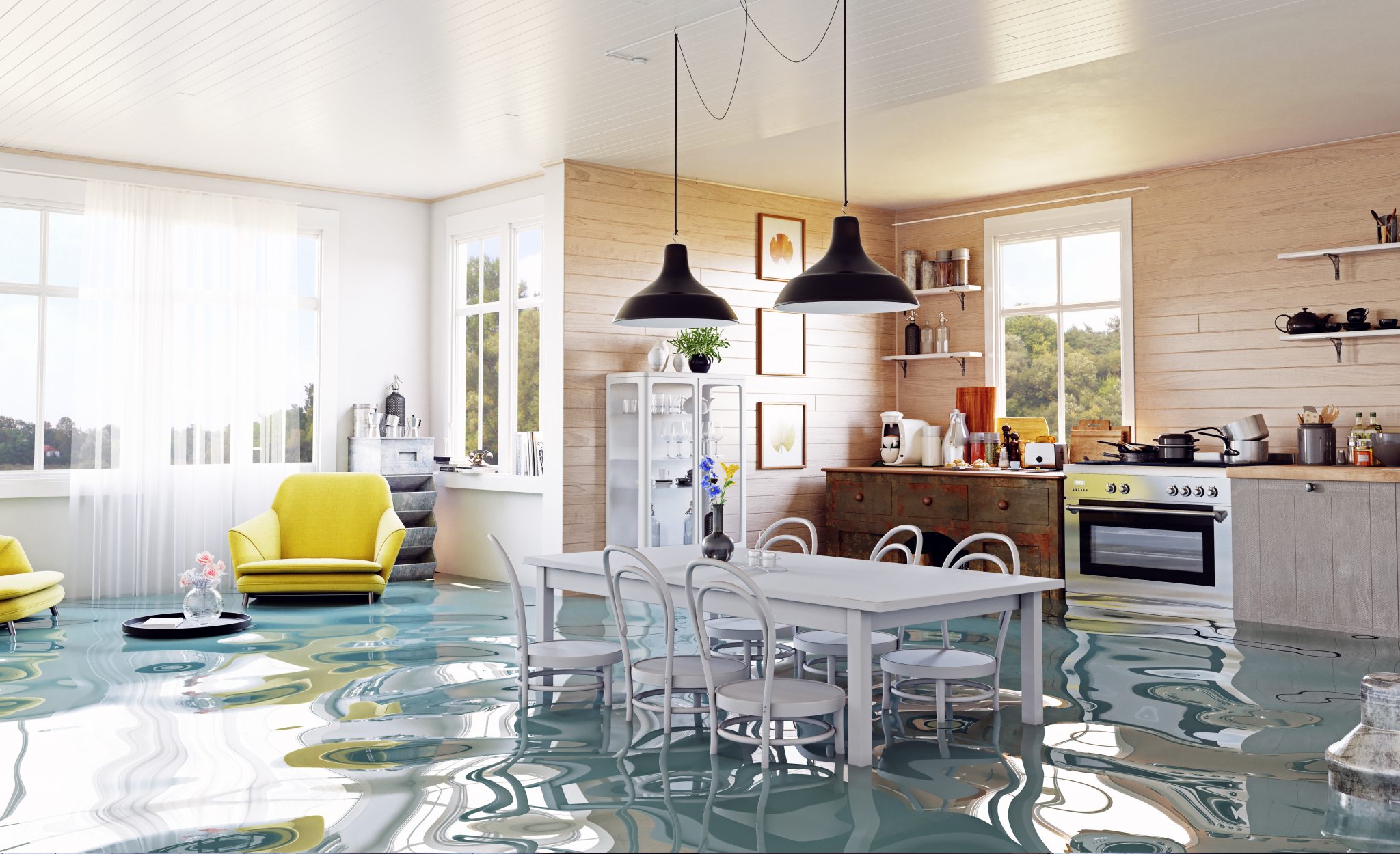 If your dishwasher seriously malfunctions, a pipe bursts, or a hurricane hits your neighborhood and floods your home, waterproof flooring offers very limited protection. You'll often have to contact your insurance company after any unfortunate events where damage occurs beyond the floor.
A Thinner Wear Layer than Solid Hardwood
The wear layer (top layer) thickness of waterproof hardwood is thinner than solid hardwood. The wear layer thickness varies from product to product, and options range up to 1.8mm (70.8 mils).
A useful way to illustrate the thickness of a mil is to know that…
1 mil = 1/1000th

 

of one inch
Plastic wrap = 5 mils
1.6 – 2mm is the base recommended thickness required for screening or sanding and refinishing. A floor with a 1.6 – 2mm wear layer can be refinished 1-2 times and last anywhere from 30-40 years. Waterproof hardwood is built to last 15-25 years but isn't designed to be refinished like solid hardwood.
Limitations to Scratch and Dent Resistance
The best waterproof hardwoods are also pet-proof. If you have a mastiff or other large dog whose nails aren't consistently trimmed, your floor will be tested.
And if you have two big dogs with untrimmed nails, who love running between rooms to chase their squirrel and chipmunk friends they see outside, then you may want to consider an alternative like waterproof luxury vinyl.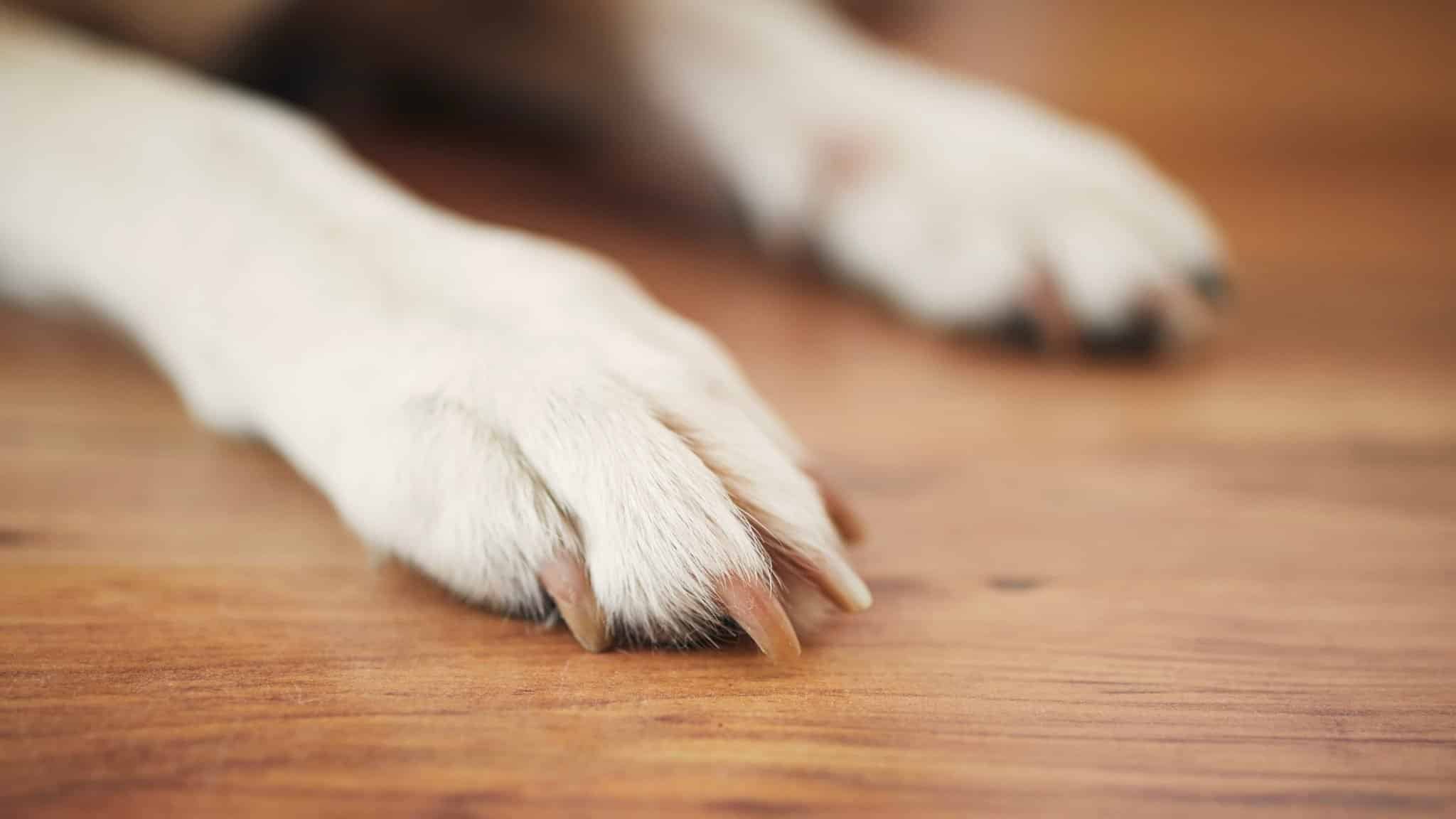 When it comes to maintaining any kind of hardwood floor in a home with pets, your best strategy is always prevention. And for dog owners this means, among other things, keeping an eye on their nails.
The Best Waterproof Hardwood Flooring
We sell waterproof hardwood flooring in our store, and offer various brands. We recommend you take a look at Raintree.
Raintree Waterproof Hardwood Flooring
Raintree combines NWFA-qualified original hardwood designs with 100% waterproof materials. You can install these floors without glue or staples, and they're finished with aluminum oxide to give you extra durability. Raintree waterproof hardwood floors are incredibly popular because they're strong and easy to maintain, so you'll be able to enjoy them with ease for years to come.
Waterproof Flooring Alternatives
Although there's nothing quite like hardwood in your home, LVP flooring has come a long way since tacky, old stick vinyl. High image embossing gives you a surface that closely resembles hardwood. It can be a great, cost-effective choice, especially in basements and bathrooms.
Knots look and feel more like knots. Beveled edges also provide a more authentic appearance, leaving you with a surface that looks and feels much more like actual wood than options available in the past. The main benefit of LVP is that it's extremely tough and can also be waterproof.
And these types of waterproof flooring are designed to be impervious to water, so they're even more resilient than waterproof hardwood. Read our response to the question: Why and how to choose waterproof flooring?
Summary
Waterproof hardwood flooring offers many benefits and has a few limitations. With this flooring option, you can bring comfort, warmth, and the natural look of hardwood to any room. You'll worry less with waterproof wood floors than you would with solid hardwood, and you'll still increase the value of your property.
At the same time, waterproof hardwood has its limitations. A thinner layer of wood is necessary for a waterproof design, but this thinner layer can pose a problem if you plan on completely refinishing your floors in a decade or two. In most situations, and with proper care, you won't ever have to.
With proper maintenance and care, the longevity of waterproof hardwood exceeds most people's expectations. In the end, it all comes down to what works best for you and your family.