Choosing the best hardwood floor type for your home depends on your budget, preference, and style. After reading this hardwood flooring guide, you'll know about the different types of hardwood flooring, wood species, and how they compare in price and performance. With realistic expectations, you'll be able to make a good choice for your home or business.
What to Consider When Selecting Your Hardwood Flooring
When you're choosing a hardwood floor, there's three main things you'll want to consider:
Most of the time, you won't consider these separately, but they'll factor in as you examine your current décor, plan your budget, and learn more about different flooring types, species, and finishes.
1. Types of Hardwood Flooring
There are two main types of hardwood flooring: solid and engineered. Vinyl and laminate are different types of flooring often lumped into the same category. If your floor isn't made from wood, it's not hardwood flooring.
Solid Vs Engineered Hardwood Flooring
Solid hardwood is a natural, unique, and timeless flooring option. Each plank of solid wood flooring is made from milled wood. Above all else, your wood floor will be one-of-a-kind. The appearance of the wood depends both on the tree and how it's lumbered. The way the lumber is milled determines the amount of sapwood and heartwood in each wood plank. This, in turn, gives the wood its distinct colors, grain patterns and textures, which influence how it accepts hardwood floor stains and finish.
Engineered hardwood flooring is constructed from multiple layers of wood or other materials, with a veneer of real hardwood on top. The construction depends on the manufacturer, the process, and the materials used. For example, waterproof hardwood flooring planks are made with a waterproof core. Read the waterproof hardwood flooring guide here.
Solid hardwood flooring is often more expensive, but it's also very durable. Installing hardwood insulates your space and strengthens the overall integrity of your entire flooring structure. You can also refinish solid hardwood multiple times, which is like getting a brand new floor. Usually, you can refinish engineered hardwood, but it depends on the thickness of the veneer.
Engineered wood flooring is more dimensionally stable than solid wood. This means that planks won't shrink or swell as much as solid hardwood will in response to humidity levels and changes in temperature. This can be a critical factor if you have a particularly damp or humid environment in your home.
Another advantage of engineered hardwood is that you can install it on, above, or below grade. This means you can install hardwood flooring upstairs and in the basement without issues.
2. Popular Wood Species, Colors, and Grain Patterns
The species of hardwood you choose has defining features that almost always comes down to budget and individual preference. One type of wood is not necessarily better than another, and each species is distinctly beautiful.
As you're talking to flooring professionals, feeling out different products, and reading articles, you'll notice there's a range of different wood species available. Each species has different characteristics, colors, patterns, and Janka rating. And some are assigned different grades to denote their overall quality relative to price. It's also important to note that every unfinished type of hardwood will look different over time, depending on the amount of sunlight the room receives and the finish you use.
Here we look at the most commonly available hardwoods used in both solid and engineered hardwood flooring.
White Oak Flooring
White oak hardwood flooring is popular for its beauty and durability.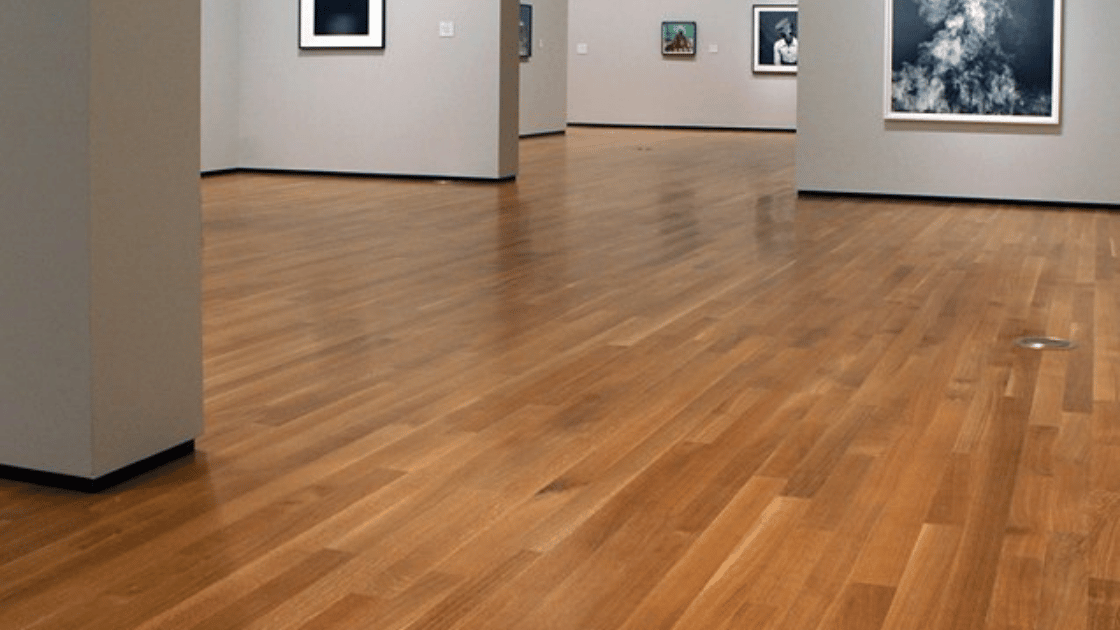 With a Janka rating of 1360, white oak is one of the hardest domestic woods around. It's popular for its strength, richness, and beauty. The wood itself is also straight and close-grained, making it exceptionally dense and resistant to warping or cracking over time. All in all, white oak flooring has everything you could want in a high-quality hardwood floor.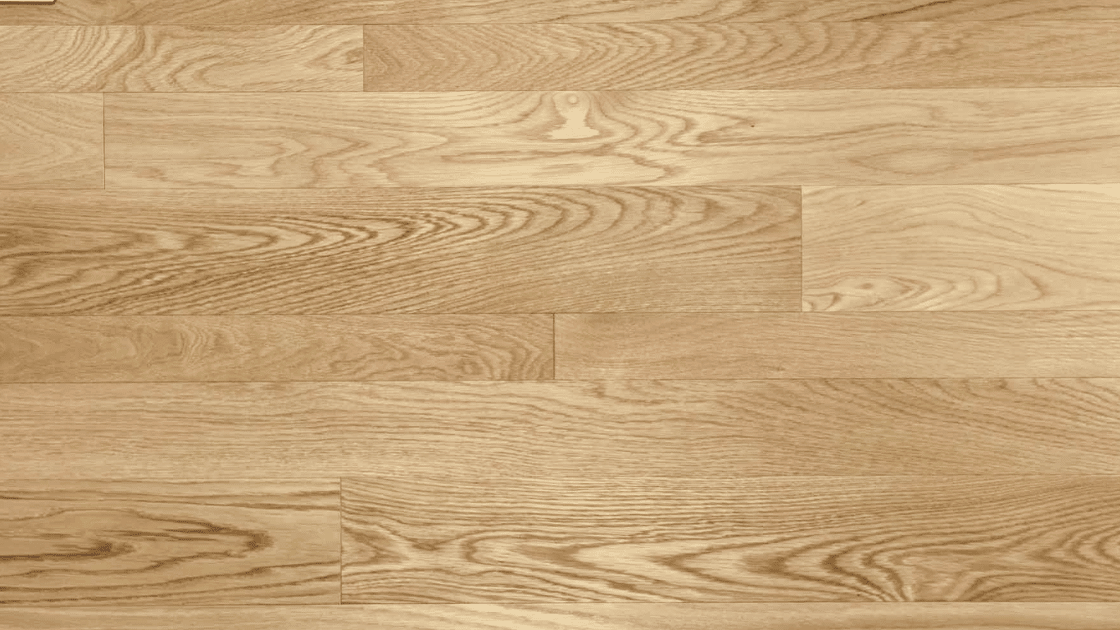 Unfinished White Oak Flooring
Janka Rating:

 

1360
Colors:

 

Lovely tan and pale brown with pinkish, gray, and brown hues
Grain Pattern:

 

Close and straight grain with occasional swirls and burls
Red Oak Flooring
Red oak flooring is another popular choice among homeowners and designers.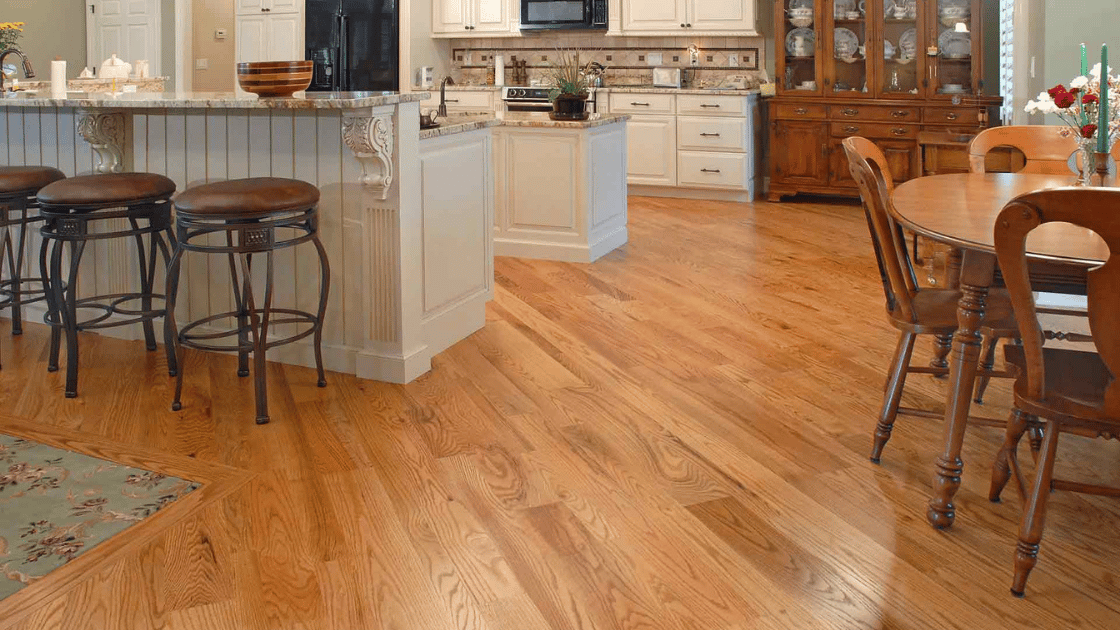 With its beautiful red hue, intricate grain pattern, and 1290 Janka rating, red oak is a solid option. Whether your ideal aesthetic is modern or rustic, red oak's neutral reddish-brown tone and unique, lively grain will add character and style to any space. Easy to maintain, red oak is one of the top choices for busy families who want a high-quality floor they can rely on. Browse our oak flooring options.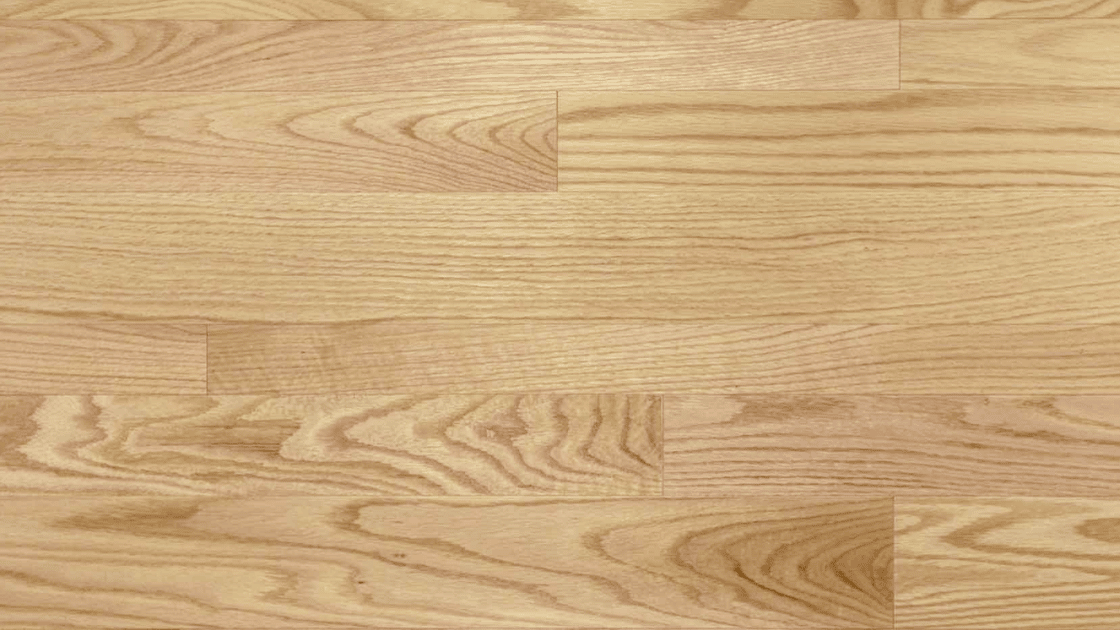 Unfinished Red Oak Flooring
Janka Rating:

 

1290
Colors:

 

Reddish hue with a neutral reddish brown tone
Grain Pattern:

 

Similar to white oak but more intricate
Hickory
Hickory is a strong and dense wood with a Janka rating of 1820, making it very resilient.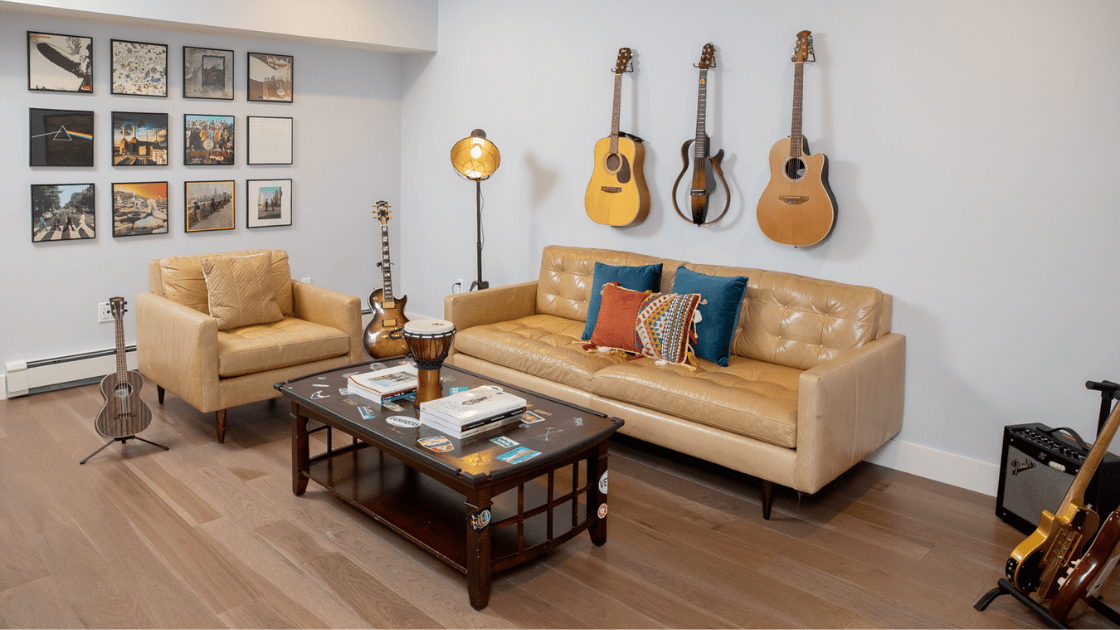 It has a non-uniform pattern with a very unique grain. It's available in different colors, from medium tan and light brown red to warm-grey brown and dark chocolate. If you're looking for hardwood similar to cherry, this is it.
Many people choose it as an alternative. Know in advance, though, that hickory will expand and contract, so you'll want to have a good idea about temperature and humidity. Hickory floors are easy to care for and are very scratch resistant, giving any space a distinct and beautiful look.
Shop hickory flooring in a variety of widths.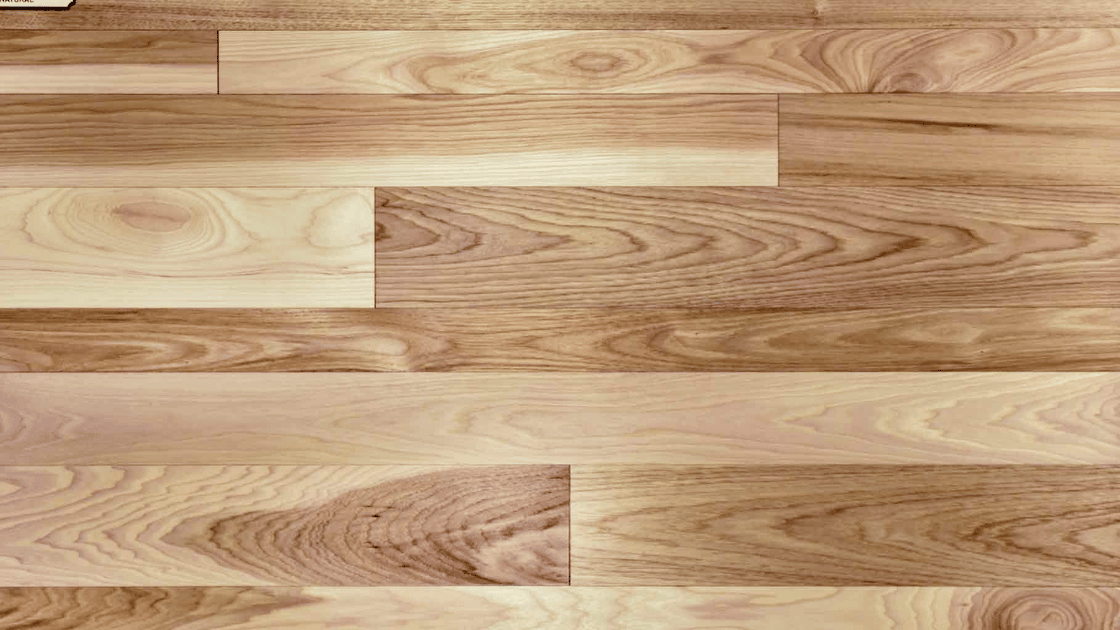 Unfinished Hickory Flooring
Janka Rating:

 

1820
Colors:

 

Medium tan and light brown red to warm-grey brown and dark chocolate
Grain Pattern:

 

Non-uniform
Hard Maple Flooring
Like Hickory, hard maple is one of the strongest, most durable types of wood flooring available.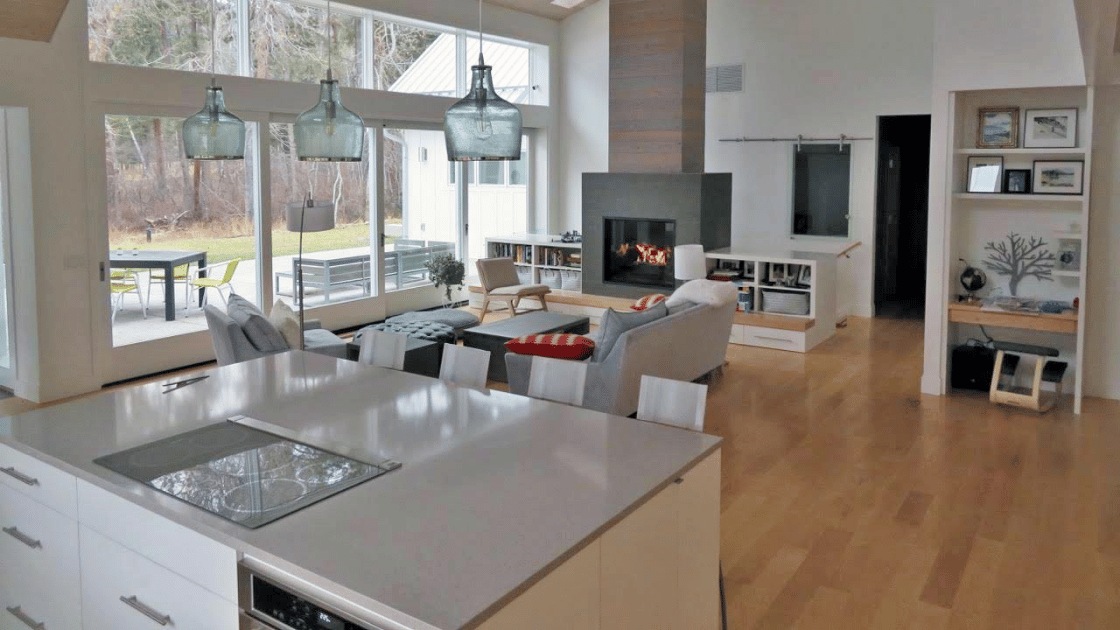 With a Janka rating of 1450, it can easily stand up to heavy foot traffic. This means it's ideal for homes, businesses, and other high-traffic areas. Because of its uniform texture, straight grain, and occasional curls, maple flooring has a beautiful aesthetic.
It's available in brown and tan shades with dark reddish brown hues. For strong, stable, and long-lasting flooring, maple may be the perfect choice for you.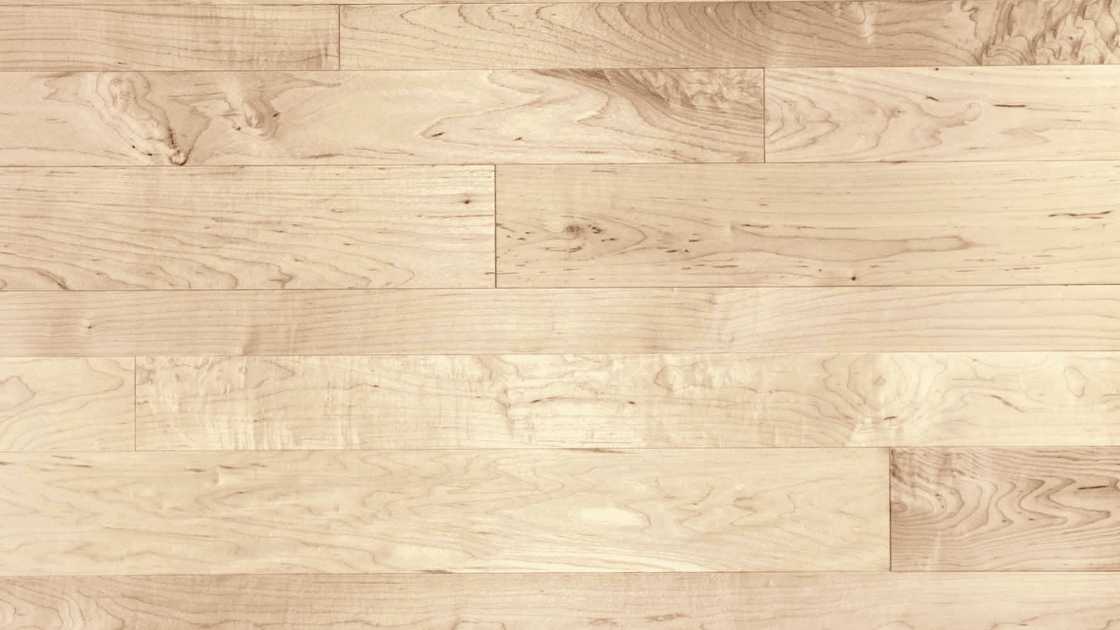 Unfinished Hard Maple Flooring
Janka Rating:

 

1450
Colors:

 

Light brown and tan shades or dark reddish brown hues
Grain Pattern:

 

Straight grain with occasional curls
Cherry Flooring
Cherry flooring is a timeless, classic choice for indoors and outdoors alike. Boasting a deep, rich rouge-hue with a smooth and glossy finish, cherry flooring can add an air of luxury and sophistication to any living space.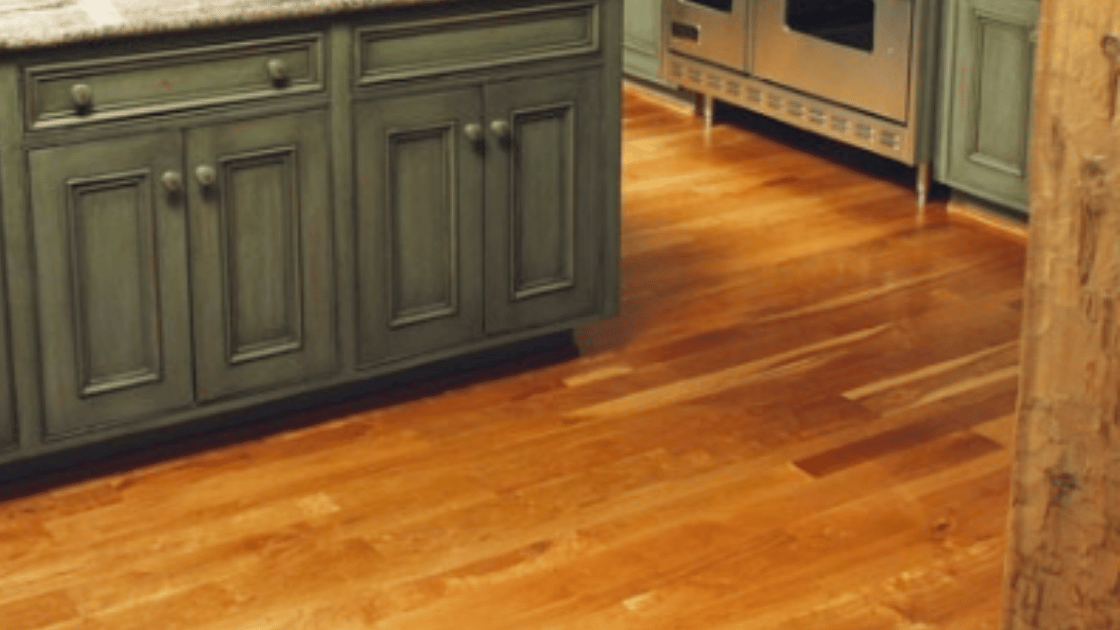 Its fine, straight grain pattern, which can also be wavy, is both smooth and elegant. With colors ranging from light pinkish and pale to dark red brown hues, the wood is highly attractive.
Over time, the tones and colors of cherry will change and develop, making it a dynamic choice that separates it from other species. Whether you're renovating your home or building a new one from scratch, cherry flooring is a great option.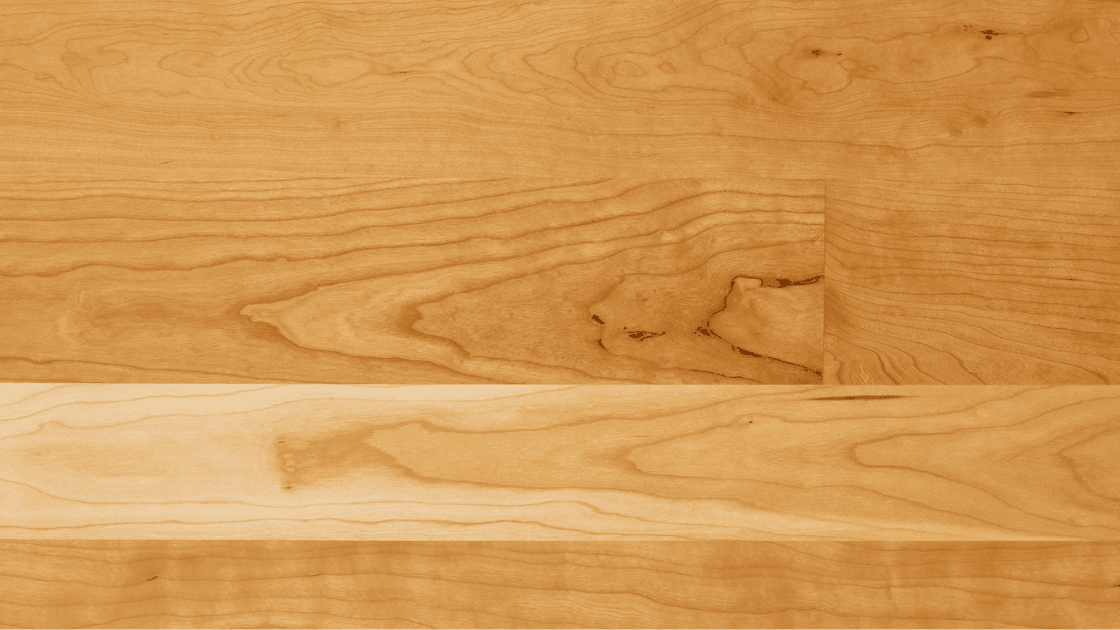 Unfinished Cherry Flooring
Janka Rating:

 

950
Colors:

 

Light pinkish and pale to dark red-brown hues
Grain Pattern:

 

Fine, straight grain that can be wavy
Walnut
Whether you're looking to revamp your dining room or update the entryway in your living room, black walnut flooring is a beautiful option.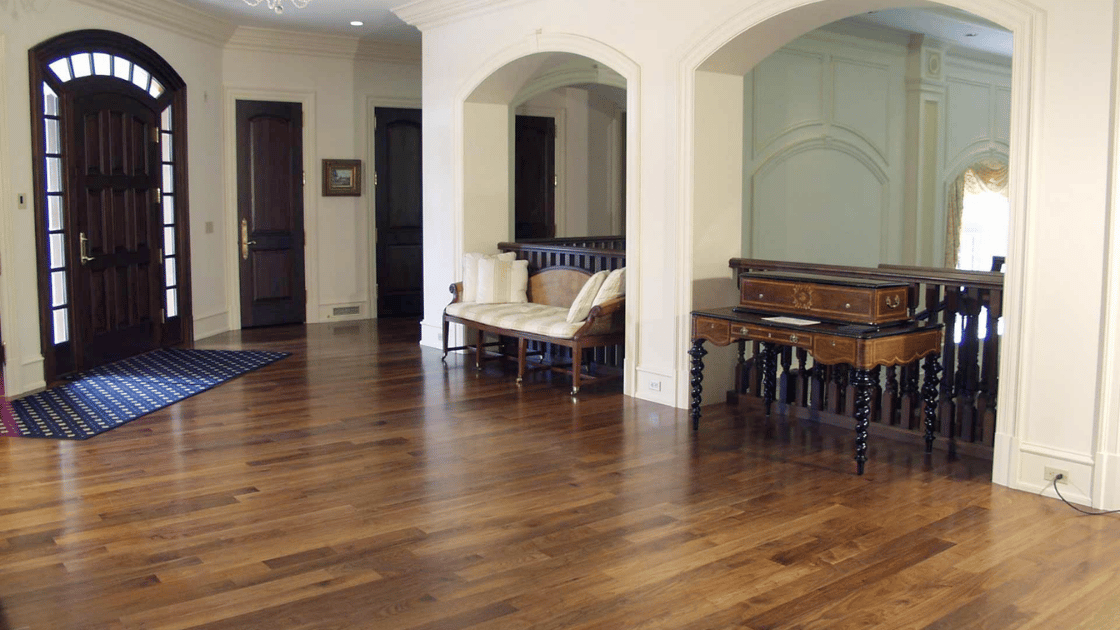 With a Janka rating of 1010, walnut floors look striking with a straight, open grain, rich, dark brown color, and swirling purple accented hues. Walnut floors look incredible in bright, airy environments, so they're particularly well-suited for rooms with direct sunlight.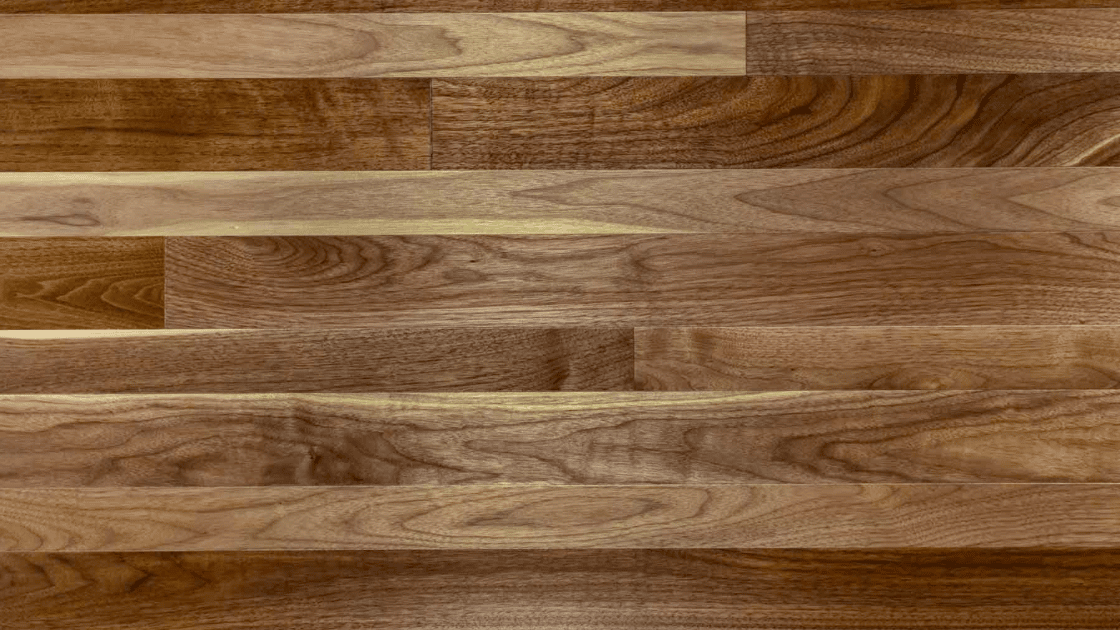 Janka Rating:

 

1010
Colors:

 

Rich, dark brown color, and swirling purple accented hues
Grain Pattern:

 

Straight open grain
Heart Pinewood
Although pine is a softwood, heart pinewood flooring is incredibly durable with a Janka rating of 1225.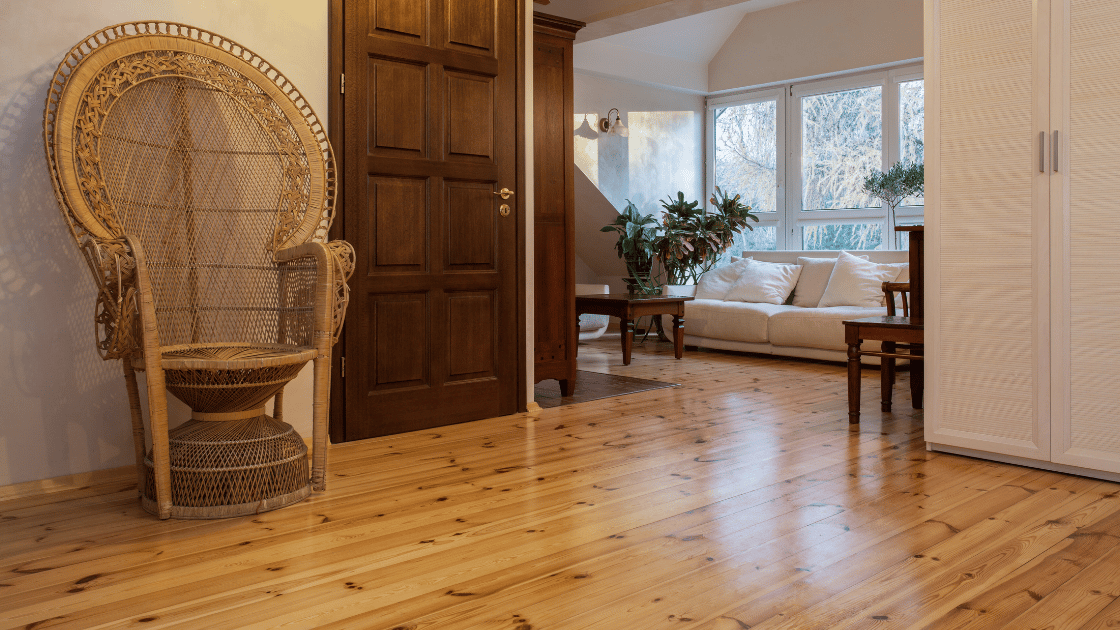 Heart pinewood also has a beautiful, distinct grain pattern that features pinholes and knots, so it's perfect for rustic and country styles. Besides rich yellow to dark brown color tones, it also can have naturally occurring sap stains that only add to its character and charm. Browse heart pine flooring.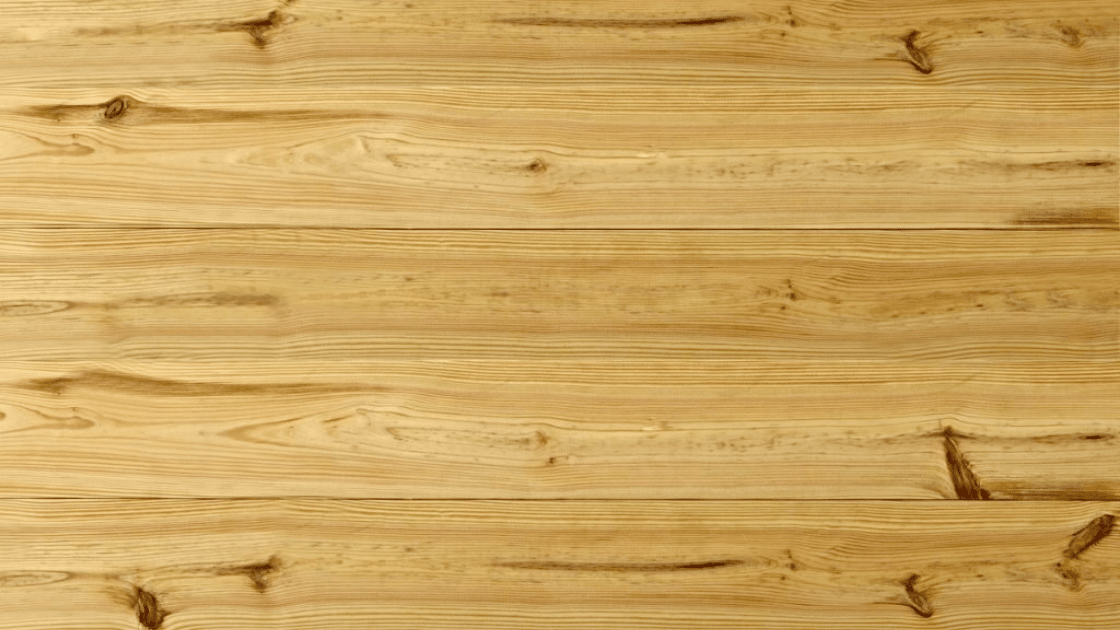 Janka Rating:

 

1225
Colors:

 

Rich yellow to dark brown color tones
Grain Pattern:

 

Beautiful, distinct grain pattern that features pinholes and knot

s
What About Bamboo?
Bamboo is not a type of hardwood – it's a woody grass that can be every bit as durable as solid wood. With a Janka rating that ranges from 1300–1400, Bamboo flooring can be a good option unless you live in an area with fluctuating temperature and humidity.
Hardwood Flooring Grades
Listed in order are the different flooring grades.
Clear: The cleanest of the clean, clear grade hardwood is picked through and close to perfect.
Select: Select grade hardwood is very clear with some small knots that are the size of a dime.
#1 Common: #1 common grade hardwood has a little mineral streaking and knots no larger than the size of a quarter.
Builder: Builder grade hardwood is a combination of #1 common and #2 common.
#2 Common: #2 common grade hardwood doesn't meet the requirements for select or #1 common and are typically shorter in length.
Character: Character grade hardwood includes everything from the tree.
Price Per Sq. Ft.
The prices for hardwood flooring are often changing, depending on the availability of wood and many other factors. For any hardwoods not listed in this guide, you can contact us for a quote. We can help you find what you're looking for.
3. Prefinished Vs Unfinished Wood Flooring
When it comes to solid or engineered hardwood flooring, you have the option of purchasing prefinished or unfinished wood.
Prefinished wood flooring comes with the finish already applied, so it's ready to install as soon as it's delivered.
Unfinished wood flooring requires someone to install, sand, and finish the floor. This gives you more control over the final look, but it requires more thought and time. It also requires specialized skills. If you choose unfinished hardwood, you'll probably want to hire an experienced contractor. Installation, sanding, and finish play a significant part in the final appearance and performance of your floor.
An experienced and skilled contractor who knows what they're doing makes all the difference. The final appearance of your hardwood floor will depend on it. For example, an experienced flooring professional will make sure the sub flooring is level. If the flooring surface isn't perfectly level before you install it, then you'll have noticeable problems after your flooring installation.
If you go with unfinished wood, there's different types of finishes that can be applied to hardwood floors, and each one will affect the overall look and feel of the floor. Some types of finishes include oil and water-based polyurethane, and natural hard-wax oils. Before choosing a finish, you may find it helpful to consider the different sheens available.
Summary
So, what's the right hardwood flooring for your home? It depends on your needs, style, and budget. With so many options available, it can be tough to decide which type of wood flooring is right for you. That's why it helps to first explore, then weigh the pros and cons of each option before making your choice.
Hardwood flooring is a great investment that will add value to your home and last for years. Finding the perfect flooring for your unique space is a challenge. It's also a long-term decision. But the more you know, the more likely you'll soon be experiencing the hardwood floor of your dreams.