When it comes to your wood floor restoration project or new installation, choosing a stain color is an important decision. But it's rarely easy. The endless possibilities can make selecting the perfect color feel like a make-or-break decision.
Because once the stain is applied, you're committed to it unless you decide to start over. If you don't like it, you'll have to go through the costly process of sanding and finishing all over again to fix it. You'll obviously want to avoid this scenario because it takes more time, money, and uses up wood, which is best saved for refinishing your floors in a decade or more.
In this article, you'll learn how to choose hardwood floor stain colors that suit your unique style and elevate your space. You'll learn about the most popular colors, best brands, and a proven way to test different stain colors until you find the perfect shade. By the end, you'll be able to select the perfect color for your hardwood floor.
To Stain or Not to Stain?
First, you'll want to make sure that staining your hardwood floor is the right choice. Whether to stain your floor or not depends on the species of wood, your personal taste, and overall style.
Do you want to bring out the natural look of the wood? Staining is probably not for you. If you like the natural aesthetic but desire a lighter shade, you can apply a product like Bona Nordic Seal or Pallmann Pall-X Whiteseal for a lighter effect without staining.
Do you have a species other than oak? If you have maple, walnut, cherry, or hickory floors in good condition, many flooring professionals recommend forgoing stain and applying a finish that protects the wood and highlights the natural occurring coloration and grain patterns.
You can apply stain to these wood species, but they require special consideration. Rubio, for instance, offers many stain colors for pine, hickory, walnut, and hard maple. If you have something other than oak installed, the best thing you can do is find a knowledgeable flooring professional to walk you through your staining options.
White and red oak flooring are always good candidates for staining. You can alter the color of oak in many ways. Just remember that it's all but impossible to make oak flooring mimic the look of an exotic wood species.
Choose Your Finish Before You Commit to a Stain
Before you stain, be sure to choose your finish. Finish is the topcoat that protects the wood and provides an attractive sheen. Knowing which finish you're going to use will help you get the outcome you want. Your finish (not the sheen) can alter the color of your floor.
You can choose between wax and natural oils or polyurethane finish. Water-based polyurethane dries clear, but oil-based polyurethane will amber (become yellow) over time, changing the color of your floor. You can also expect your floor to change color from sunlight unless you use a finish with a UV inhibitor.
As always, work with a flooring professional to determine the best finish and stain combination for optimal results.
What Effect Do You Want Your Floor to Have?
Once you've decided to stain, it's time to think about the effect you want to achieve.
What will be the focal point of your space? Will it be the floor? Do you want your floor to make a statement and draw attention? Dark red oak floors stained with ebony can give you a modern and bold look that also makes your furniture stand out.
Or would you prefer a floor that's lighter and more subtle, unifying the room and creating a sense of balance?
Keep in mind the big picture. Your floor plays a significant role in your overall interior design, but it's one aspect of your space. You also have décor, fixtures, furniture, and the room's overall color scheme, including the walls. Thinking about how all the pieces fit will guide you toward choosing the perfect color.
One way to get started is to use our flooring visualizer. You can upload a picture of your room, choose the type of wood, and select the stain color. This will give you an idea about the color and how it will look in your space.
Your floor can tie it all together, be boldly attractive, or anything in between. The stain color you choose will be worth it in the end if you know why you're staining in the first place.
How to Find the Perfect Hardwood Floor Stain Color
Whether you have time to plan or are moving in soon and need to choose a color as soon as possible, you can find the perfect color easier than you may think.
Consider Three Popular Hardwood Floor Stain Colors
Start by considering three widely popular wood floor stain colors: Dark Walnut, Provincial, and Jacobean. They look great across many styles, from modern to traditional, because they complement a variety of color palettes.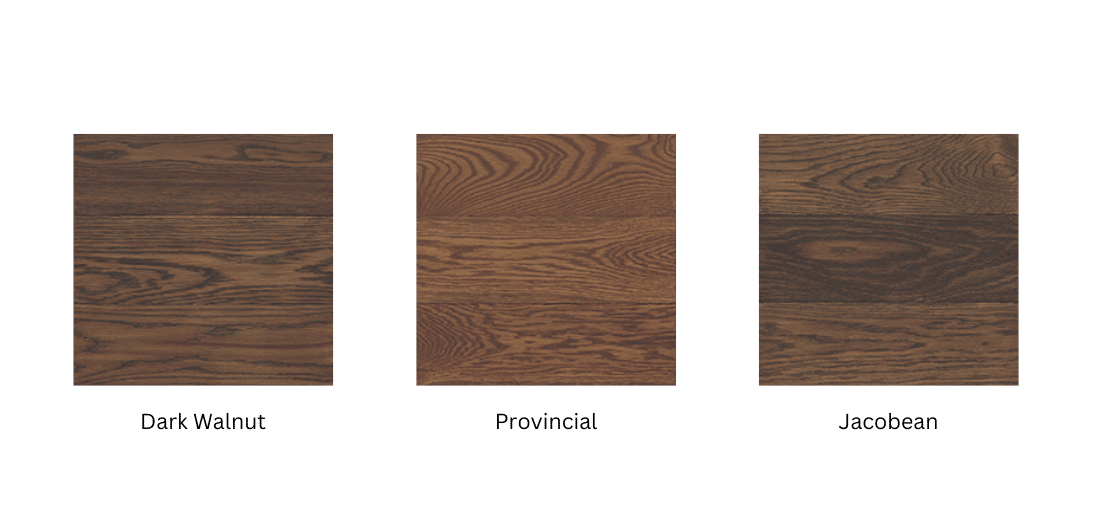 These colors have no red undertones and are popular for their versatility. Many people use them right out of the tin or mix them to create custom and nuanced variations.
With these colors you can achieve many sought after looks, such as coffee, espresso, or a good, medium brown shade. One trick of the trade is to blend Dark Walnut, Provincial, or Jacobean with Natural or Neutral to lighten the color while keeping the same tone.
Mix Stain Colors For a Unique & Custom Shade
No matter your preference – even if you want your floors to be green, blue, or bright red – you can get any base color you want. But if you're searching for something particular, you can make it by blending different stain colors in a few easy steps.
First, find a color that closely represents the shade you want. Next, begin experimenting by mixing in other colors. Then apply your custom stain to pieces of the same wood species you have installed to create test samples.
You can also hire a professional to make the samples for you.
Place the samples in your room and try them out for a few days, morning, afternoon, and at night. Eventually you will find the perfect one.
Do not skip this step. It's very important for you to see the color in action before making a decision.
A professional can also apply test patches to the floor before you ultimately make your choice.
Ideas For Oak Stain Colors
With oak, you have many possibilities. Remember, red and white oak floors with the same stain color will look different. Red oak has a pink and red hue when compared to white oak. Here are some proven colors known to look great on oak.
Popular Red Oak Stain Colors
For a contemporary look, you can try a combination of Early American with Chestnut.
Combining Red Mahogany with Dark Walnut will give you a warm brown color.
For a lighter shade, try Silvered Grey.
Can You Get a Grey Stain with Red Oak?
Getting an even shade of grey with red oak is difficult, but it can be done. For a nice grey stain on red oak, you can apply Rubio Monsoon Grey Pre-Color Easy mixed with Black.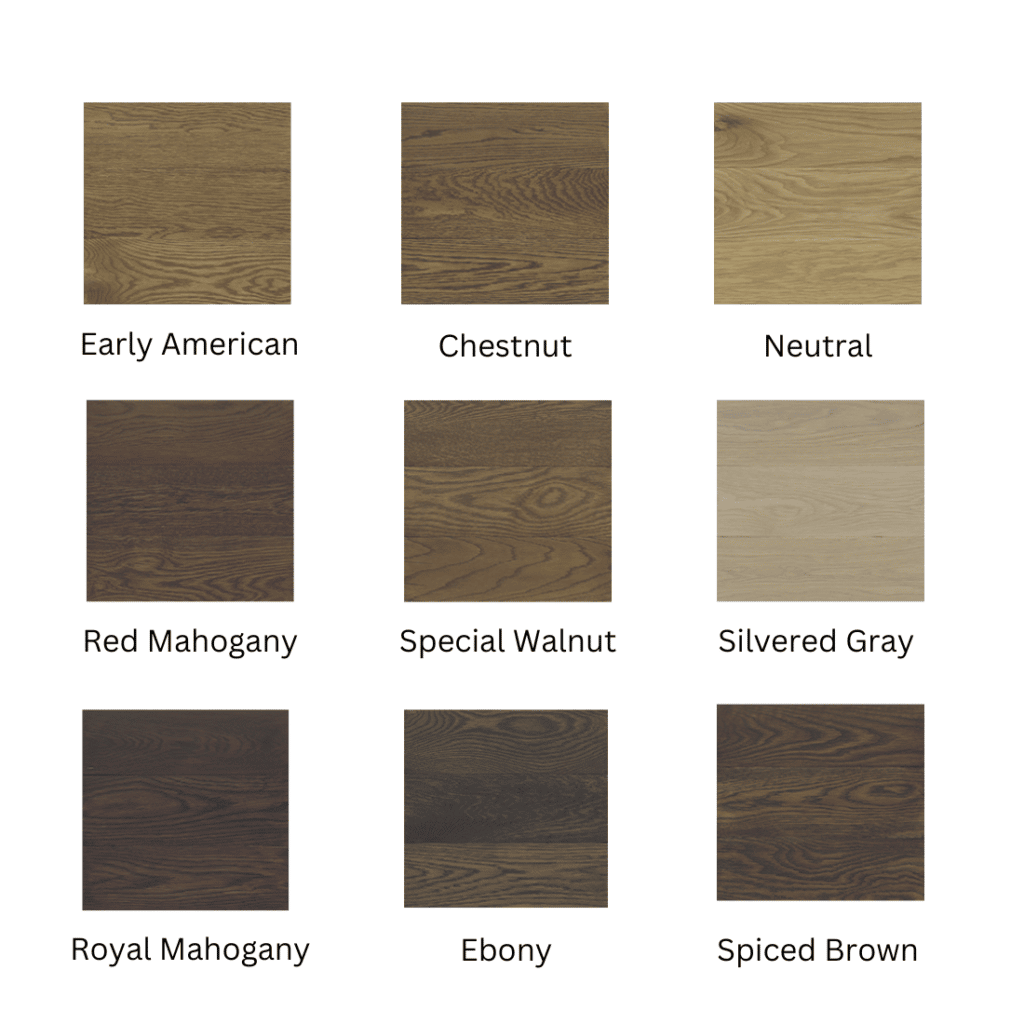 Popular White Oak Stain Colors
For Coffee Brown use Provincial and lighten it with Special walnut.
For brighter floors, try ½ Provincial and 1/2 Neutral.
Dark Walnut and Chestnut combine to give you a warm, inviting, look.
Like the natural look of white oak and want to avoid brown? Take a look at

 

Weathered Oak.
Experiment with combinations of Royal Mahogany, Walnut, Ebony, and Chestnut.
Want traditional and timeless? Try Spice brown.
Looking for a darker stain color? Read about proven dark hardwood floor stain colors.
Fan Decks & The Best Hardwood Floor Stains
Fan decks are useful tools that help you visualize. Many people find it easier to see the colors in their hands than to look at pictures on a screen. Make it quick and easy to find the perfect color when you put all the color options at your fingertips. Order Rubio, Bona, Minwax, and DuraSeal color fan decks for a full range of colors, so you can visualize every color option in your space.
4 Bonus Staining Tips
If you see stains on the wood after sanding (i.e. from pets) you will either want to replace the individual boards or use a dark enough stain to make them unnoticeable.
Adding more stain is not a solution for fixing a stain issue.
When mixing custom stain colors, choose a couple different colors and combine them using a 50/50 ratio. Still haven't found what you're looking for? Change the ratio to ¾ and ¼.
Always hire the best wood flooring professional you can afford. Do your research and get recommendations for who to hire if you can. You'll want to be certain the people you hire to stain your floors know exactly what they're doing.
Summary
It's easy to get overwhelmed by the options when you're looking for a stain color for your hardwood floor. With so many beautiful colors available, how do you choose? The best way to start is by deciding what effect you want your floor to have while keeping the big picture in mind.
Once you know that, you can hone in on the right color. Dark Walnut, Provincial, and Jacobean are popular wood floor stain colors that work great across many styles. If you're still not sure which color to choose, mix custom colors and apply them to samples, so you can test them in your space. Eventually, you will find the perfect shade.
Want help creating a custom color that will perfectly match your vision for your home? At Panel Town, we can help you find the right color, and we offer fan decks and the best hardwood floor stains in store and online.