In this article, you'll learn about the best vinyl floor cleaner, so you can make your vinyl floors look better than you ever thought possible. If you're wondering how to get rid of those mysterious black scuff marks that won't come out, this is for you. By the end, you'll know the best way to clean, protect, and brighten up your vinyl floors. Whether you have LVT or LVP, you'll love the magic of a perfect clean.
Recommended Vinyl Cleaners
To bring out the beauty of your vinyl flooring, you'll have to clean them regularly. Dust, dirt, hair, and more starts to collect as soon as people and pets start moving around the room. Over time, you'll likely encounter stubborn marks, dusty footprints, stains, and smears. Unless you're ready for each mess that comes your way, cleaning your vinyl floor becomes an excruciating chore. Fortunately, the right supplies and strategy makes it easy and satisfying.
Before Cleaning Your Vinyl Floor
First, always beware of what you put on your floors. Avoid all products with detergents, waxes, ammonias, abrasives, and hardwood-only flooring cleaners. These types of cleaners can damage vinyl. You'll also want to be careful about using cheap cleaners, which can leave behind unsightly streaks and drab coatings of film.
Before choosing a cleaner and supplies, you'll want to know what kind of products you need. This depends on the current condition of your floor. If your floors are new, or you've been maintaining them, our recommended solutions offer flawless cleaning. But if your vinyl floors need major cleaning (you haven't cleaned them for months or years), you'll want something more powerful for all that accumulated crud.
What do you do after months or years of built-up dirt when your floor desperately needs a deep clean? If that's your situation, you'll want to start with an intensive treatment cleaner for vinyl at least once before starting a regular cleaning routine.
Decisions, Decisions: Choosing a Cleaner for Vinyl
Search for surface cleaners on Amazon or take a walk down the cleaning aisle at the store, and you'll see there's no end to the options available. With so many products to choose from, how can you know which one to buy?
One reliable strategy is to ask the people in the know. When it comes to immaculately clean floors, commercial custodians and flooring professionals have it figured out. They're serious about floor maintenance and know which products work the best.
Using these highly recommended products as part of your cleaning and maintenance routine will work wonders. And your floors will never become filthy or sticky over time. The centerpiece of your space will look pristine and feel incredibly smooth under your feet.
What About Vinegar and Water?
You can always use 1 cup of white vinegar or apple cider vinegar mixed with a gallon of water and a mop. You'll want to be careful though with using vinegar over time because the acidity can dull the sheen. Additionally, vinegar and water doesn't evaporate, so it has the tendency to leave streaks. And it's not nearly as effective for cleaning vinyl when you compare it to the high-powered, yet gentle products on the market today.
What About Residue?
No cleaning solution we recommend here leaves behind any residue or haze. If you experience haze or streaks after using them, it's likely that you already have residues on your floor that show up after you clean them. That, or you're using too much cleaner. Haze is easy to notice because you'll see footprints left behind. After proper cleaning with these products, you'll often find that it goes away.
Simple Cleaning Gets the Best Results
For most people, cleaning vinyl floors is best kept simple using a broom, vacuum, vinyl cleaner, and microfiber mop.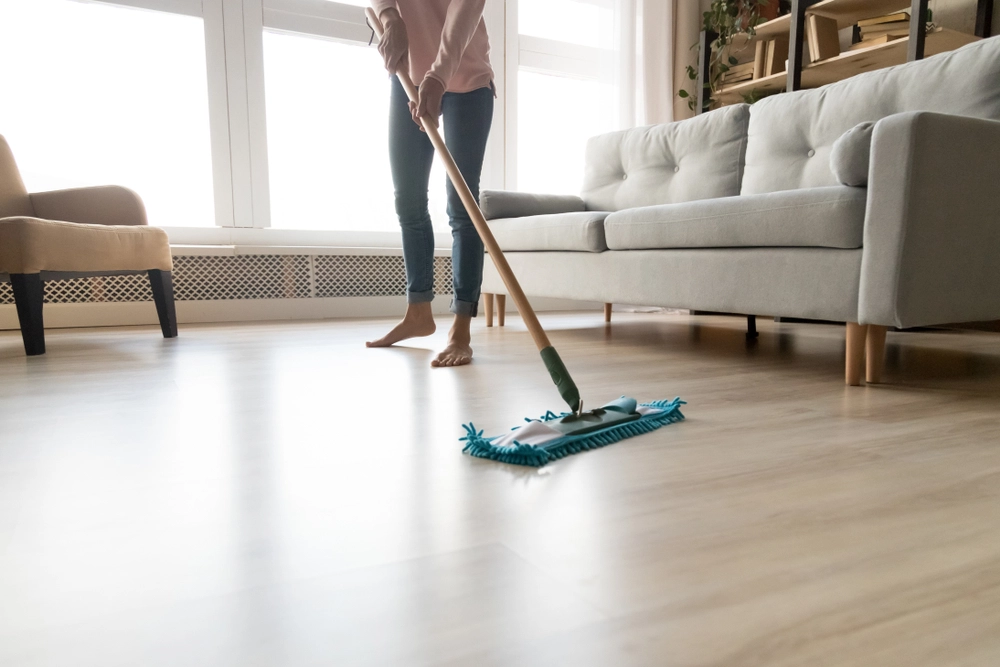 You can clean in three easy steps:
Vacuum, broom, or dry mop surface dirt and dust, hair, and larger particles before you move onto a spray cleaner before you mop the floor.
Spray the cleaner.
Wipe off the cleaner with cloth or a microfiber mop. We recommend

 

Bona Premium Mops

 

or

 

Woca Spray Mops. Read more about the best mop for vinyl floors.
You can always spray cleaner in one hand while mopping with the other. Or purchase a gallon of cleaner and use a spray mop with a microfiber pad. Make sure you're always using a clean microfiber pad, so you don't redeposit dirt and grime back to the floor. Having two microfiber pads on hand, and switching them as needed will save you time in the long run.
Best Cleaner for Vinyl Floors
A little spray goes a long way with these cleaners for vinyl floors, which are made specifically for everyday use. They work exceedingly well on vinyl to cut through grease, eliminate stains, and give you a beautiful and clean surface.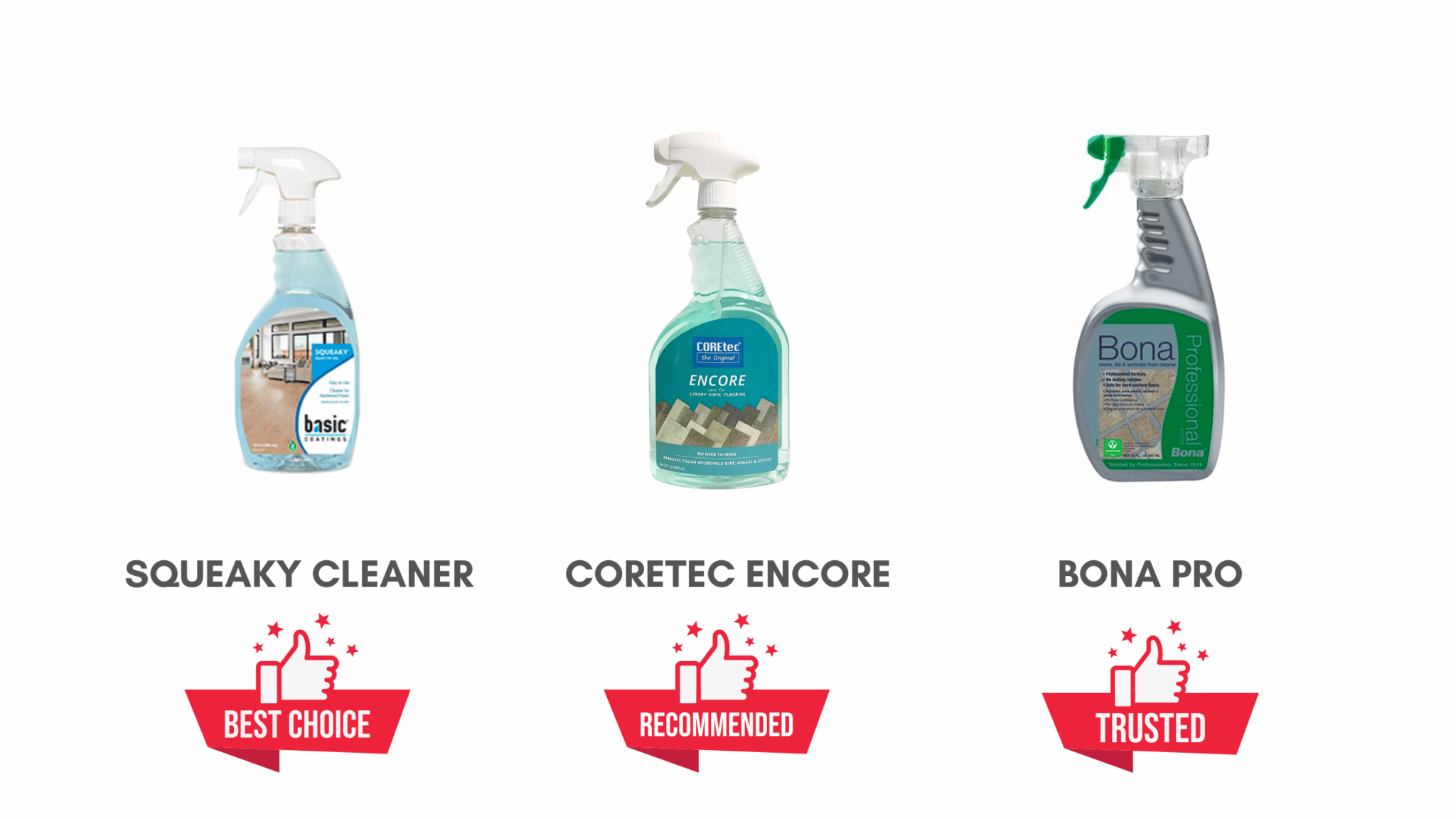 Squeaky Cleaner, COREtec Clean Spray, and Bona Pro are great for the kitchen, bathroom, hallway, and any other room in your home. 
They're ideal for vinyl floors and work on a variety of hard surfaces.
 You can order a single 32 oz. bottle or gallon of concentrate. With ready-to-use concentrate, you get a great value: less than $30 for about 30 gallons of cleaner, which is sure to last you a long time.
1. Basic Coatings Squeaky Cleaner 32 – oz.
Topping the list is Basic Coatings Squeaky Clean 32 oz., a favorite among flooring installers and cleaning professionals. Many people call it the answer to all their hard-surface cleaning needs.
This light-blue and low-VOC floor cleaner works like a charm, and it's easy to use. It's effective on vinyl, hardwood, and other laminate resilient flooring types. You can even use it to clean wooden kitchen cabinets.
Squeaky Cleaner Features
Price: $9.08
Cuts through dirt and grime without a buildup of dull residue
Low-VOC formula
Great for LVT, LVP, and hardwood flooring
Works with an automatic scrubber
No-rinse alcohol-based cleaner that dries ultra-quick
Great for water-based and oil-based polyurethane-coated floors no matter the sheen
Just spray it and run a microfiber cloth or mop over the surface. Use it for daily cleaning or prior to recoating with any Basic Coatings finish. Perfect for vinyl and versatile, even if you have refinished original hardwood from the 1920s. You'll love how irresistibly nice and clean it leaves your floors.
2. COREtec Encore 12x Clean Spray – 32 oz.
Next on the list is COREtec Encore 12x Clean Spray. This pH neutral cleaner takes care of smudges, dirt, stains, spills, spots, scuffs, and more. Versatile and effective, it works on all types of hard surfaces – from hardwood and ceramic to laminate and vinyl floors.
COREtec Encore 12x Clean Spray Features
Price: $14.99
Lovely scent that doesn't linger
Low-VOC
Made for COREtec flooring
No-rinse alcohol-based cleaner with rapid dry time
Works just as well on hardwood as it does on vinyl
No residue or tacky feel. Doesn't leave an unattractive film on the floor or a sticky mess
If you have any doubts, put this cleaner to the test. Try it on a tough smudge and wait less than 30 seconds for the magic to happen. Order COREtex 12x Clean Spray today.
3. Bona Pro Stone, Tile & Laminate Cleaner Spray – 32 oz.
Third on our list is Bona Pro Stone, Tile & Laminate Cleaner. It's another reliable product that gives you a deep clean lasting several weeks. Like Squeaky Cleaner, many people call it the best cleaner they've ever used, especially in the kitchen. If you've never used it, you won't believe how clean your floors will be.
Bona Pro Cleaner Features
Price: $8.29
Fine light-purple mist that doesn't leave behind residue
Low-VOC and GREENGUARD certified
Good crisp lemon-mint smell that doesn't reek of chemicals
Water-based cleaner that dries quickly
Works on many types of hard surfaces
Make your floors glow with minimal effort using Bona Pro cleaner on your vinyl floors.
Order the popular Bona Pro Stone, Tile, & Laminate Cleaner today.
Summary
Vinyl flooring will last a long time and look lovely if you maintain it properly. Regular cleaning will preserve your flooring's good looks and durability. With these mild yet effective cleaners, you can keep your floors in top condition all year long. All of our recommended cleaners work great for removing dirt and grime from your floors and protecting the surface.
Our favorite is Squeaky Cleaner by Basic Coatings. For a hassle-free and optimal solution, made with the perfect amount of cleaning power, order these specially formulated, eco-friendly products.